The Tenet Trailer Dropped on Fortnite, Proving Christopher Nolan Really Does Know His Audience
The trailer for the mysterious time traveling epic has finally arrived—but don't expect any clues to be solved before the July 17 premiere.
---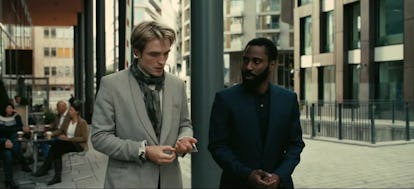 Image courtesy of YouTube/TENET.
The trailer for Tenet, Christopher Nolan's next mysterious action thriller starring John David Washington and Robert Pattinson, has finally arrived.
The director debuted the trailer for the action epic along with the first six minutes of footage via Fortnite, the online game where Travis Scott also performed in a virtual concert a few weeks ago.
But just because his style of releasing movie trailers appears to have embraced the current, socially distant moment does not mean that Nolan has backed off on his plan to release the actual film in theaters this summer. Though many cinemas across the country remain closed due to the coronavirus pandemic, some will slowly begin to reopen, and the director wants Tenet to be playing in them on July 17. (Not everyone in Hollywood is thrilled about the idea of movie sets and theaters re-opening at a time when it may not be safe yet to do so.)
In Tenet, Washington stars as a time-bending agent working to prevent World War III. Whether he's doing that with the help of Pattinson's character or in spite of him, it's not exactly clear. But both of them appear to either be experiencing time backwards or seeing the future before it happens. Elizabeth Debicki, Michael Caine, Clémence Poésy, Aaron Taylor-Johnson, and Kenneth Branagh co-star.
If you watched the trailer and found yourself at a loss for words for what it's actually about, you are not alone: Pattinson, one of the film's stars, revealed in a recent interview that not even he knows exactly what was going on in that movie. It's all typical for Nolan, though—all you need to do is look at his track record with Memento and Inception to know that the director plans to deliver blockbuster entertainment that bends the mind, with no easy explanations for how the movie turned out.
Related: Robert Pattinson's Quarantine Seems To Be Going…Well?