The Tenoverten Girls Tell All
Nadine Abramcyk and Adair Ilyinsky share beauty advice for a lifetime.
---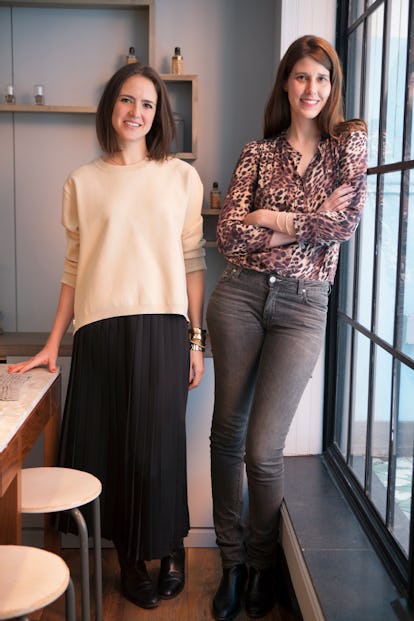 Tenoverten just opened their fourth nail salon in New York's Financial District. Founders Nadine Abramcyk and Adair Ilyinsky are busy, busy, busy lately – an Austin location opens next month – but they managed to eek out a few minutes to share their beauty wisdom, routines and must-haves.
What's your first beauty memory? Nadine: When I was nine, I was at a sleepover party with six girls and we all Nair-ed our legs together. The fact that I even used Nair as a verb says it all. Our moms wouldn't let us shave so we took matters into our own hands.
Adair: When I was 15, my mom and I went from our home in Connecticut to Manhattan to meet Bobbi Brown at a book signing event. She signed my copy and I got to have my makeup done for the first time at a counter, then take home all of the products they used. It was pure bliss and a wonderful introduction to beauty.
What was your worst beauty blunder? Adair: About eight years ago I asked my hairstylist for heavy, blunt bangs without much premeditation. It didn't suit my face shape or hair type at all, so I'm not sure what possessed me. Only a couple of weeks later I met my amazing, future mother-in-law for the first time and she asked, "Have you ever considered growing out your bangs?" I didn't dare tell her that I had just gotten them!
Nadine: I got acrylic nails for my senior prom. I'm sure I've got another 100 beauty blunders but that one stands out in my mind seeing as I'm so passionate about natural nails as an adult.
What beauty products are currently in your purse? Adair: Beautycounter Peppermint Lip Conditioner; Kjaer Weis Cream Blush in Blossoming; L'Occitane Shea Butter Hand Cream; and Tenoverten The Foundation strengthening basecoat.
Nadine: Earth tu Face Skin Stick for on the go, moisturizer on the lips or face; Tenoverten's cuticle oil prototype; Grown Alchemist Intensive Hand Cream; and Chanel Rouge Lipstick in Passion.
What's your 5-minute morning beauty routine? Nadine: I wash my face with Beauty Counter gentle cleanser, put on eye cream followed by Elta MD Facial Sunscreen and curl my lashes with my Shu Uemura lash curler.
Adair: This would be a stretch to say it's five minutes, but this is my daily routine: Out of the shower, I prep my skin using One Love Organics Vitamin C Brightening Facial Serum and Image Skincare Prevention SPF 50. I then apply CHANEL Vitalumiere Aqua (the most weightless foundation ever) and Kjaer Weis Cream Blush in Blossoming. On a 'dress up' day I finish things off with red lips courtesy of CHANEL Rouge Allure in Pirate.
If you had an extra 10-15 minutes in your routine, how would you spend it? Adair: I would probably fill in my eyebrows a bit with a pencil since I love a strong brow, but I haven't devoted enough time to mastering the technique. Nadine: I would use a skin brush in the shower and do a mini 5-minute meditation.
Which discontinued product or shade do you mourn? Nadine: We did a limited edition collaborative nail polish at Tenoverten for Yes Way Rose. I am so sad it is gone; it was the perfect rose pink.
Adair: I'm actually not too attached to any beauty products. I am more of a sucker for trying all of the latest and greatest.
What's your beauty peeve? Adair: Over-plucked eyebrows pain me. Full eyebrows are so beautiful and when they are made too thin, it throws off the natural balance of the face.
Nadine: I am such a naturalist when it comes to beauty products that I feel bothered when people overdo it with makeup. There is so much natural beauty in every individual. We should celebrate that a bit more.
What are you currently obsessed with? Nadine: I'm obsessed with Taryn Toomey's 'The Class.' It's a mind-body workout that I go to every week, sometimes more than once. I adore her and what she does for my overall well-being
Adair: Sugaring. It's an all-natural hair removal service that we're now offering and Tenoverten is one of the few places to do it in New York. I can personally attest that it is so much less painful than waxing and boasts a whole list of other benefits; I just can't figure out why it hasn't hit New York sooner.