An Eye for Beauty
The skincare legend Terry de Gunzburg has built an empire based on her unerring taste—which is in ample evidence in her Manhattan apartment.
---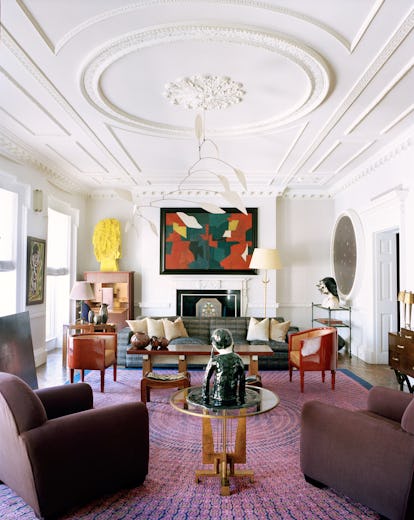 Terry de Gunzburg was 20 when she bought her first artwork, a ceramic plate by Pablo Picasso. This was before her success as a makeup artist, a perfumer, and an entrepreneur; before she worked on shoots with David Bailey and Helmut Newton; before she became the guiding force behind Yves Saint Laurent Beauté and invented Touche Éclat, the brush-on highlighter gratefully adopted by women in the know to erase the aftermath of late nights and long flights; before she founded By Terry, a line of cosmetics that combines the latest skin science with her love of roses. Before all that, she was, like many of the rest of us at that stage, a young woman with an appreciation for beautiful objects beyond her means. The dealer allowed her to pay off the Picasso ceramic in 12 monthly installments. Twenty-two years later, her nephew broke it.
A petite brunette with a warm welcome and a dry sense of humor, de Gunzburg recounts this story seated on a Marc du Plantier sofa in her Manhattan apartment, with a Jacques-Emile Ruhlmann carpet at her feet, paintings by Damien Hirst and Jason Martin on the wall to her left, and a Richard Serra sculpture leaning next to a window. A maid enters and sets a tea tray on a low table made of wood, bronze, leather, and parchment by Paul Dupré-Lafon. The building is a classic Upper East Side midrise, vintage '20s—discreet, elegant, with high ceilings, grand bathrooms, and generous proportions. Inside, de Gunzburg has created a haven in which art and furniture from disparate eras live in a harmony even the most skilled decorators find hard to achieve. Joan Miró, Max Ernst, Alberto Giacometti, Georg Baselitz, Alexander Calder, Jean Dunand, Harry Bertoia, Pierre Chareau, Picasso (again)—the list goes on. The inventory of her apartment alone would be the envy of any museum. "It's not my lipstick that made all this possible," she says matter-of-factly. "It was when I married Jean that I had the capacity to collect."
Jean de Gunzburg, a prominent cancer researcher, comes from a cultivated and influential French family. The collection of important furniture and art that he and Terry have quietly built together over the past 20 years has presumably gone a long way toward mitigating the loss of a Picasso ceramic plate (which, in any case, had proved to be of dubious authenticity).
It was the second marriage for them both, and, in a plot that in Hollywood might serve as the basis for a romantic comedy, it was their daughters from previous marriages—classmates in school—who played matchmakers. As divorced single parents, Terry and Jean would meet in passing at parent-teacher conferences or when dropping off the children for play dates. He thought she was beautiful; she thought he was hilarious and smart. Still, she insists, it wasn't love at first sight. They were both dating other people. His daughter Clara asked him if he would like to marry Terry. "Of course not," he said. Terry was happily single, but when her daughter Eloïse relayed his reply, she was insulted. The back-and-forth went on for two years. And then—-finally—the recalcitrant lovers had dinner together, and Cupid's arrow hit its mark. Cue the wedding music. They combined their families—five daughters in all—and went on to have two sons of their own.
The newlyweds discovered that they both loved to work (Jean has devoted the past 10 years to the search for new antibiotics). They also discovered that they loved looking at art together, although their tastes sometimes diverged—she describes him as more classic and herself as more willing to take risks. He told her that he had always wanted to buy a painting by Francis Bacon. "What are you waiting for?" she asked. "Let me help you with that." A Bacon triptych depicting semi-nude male figures set against an orange background now fills an entire wall and dominates the dining room, with its table by Jacques Adnet and rustic chairs with woven-rush seats that Ruhlmann designed for the Rendez-vous des Pêcheurs de Truites, his country house in Normandy.
Color is by no means confined to the paintings. A Dunand console made for the S.S. Bismarck is lacquered a shade of orange that echoes the Bacon work. In a city where the spare all-white loft—like an art gallery with a sofa—has become the standard-issue residence for collectors of contemporary art, de Gunzburg's apartment is surprising for its palette: burnt orange, plum, turquoise, navy blue, lime green. Jacques Grange, the renowned interior designer and a close friend, calls de Gunzburg "an extraordinary colorist"—a skill that comes out of her expertise as a makeup artist, he says. She admits to having something akin to the visual equivalent of perfect pitch, as well as an ability to deconstruct a color as if it were a chord, breaking out the individual notes that were mixed to create it. As it happens, the colors she lives with in this apartment also served as the basis for the packaging of her new Haute Parfumerie Paris collection, a suite of fragrances too complex to fit the usual categories ("spicy," "floral").
Grange and de Gunzburg met shortly before she started working for Yves Saint Laurent, whose own gift for orchestrating improbable shades in the clothes he designed was on a par with that of the greatest painters. The dramatic Gripoix cast-glass necklace de Gunzburg is wearing on this particular day—set off by a white cotton shirt—was designed by Loulou de la Falaise, also a friend and another of the supremely talented people in Saint Laurent's orbit. They learned from the master and one another.
De Gunzburg shared Grange's appreciation for Art Deco, which he discovered in the early '70s, before it had a widespread revival. Saint Laurent was among the earliest buyers, along with Andy Warhol and Hélène Rochas. For Grange, the movement and its distinctive style have become a specialty, with Jean-Michel Frank as one of his guiding inspirations. In de Gunzburg's apartment, she and Grange revisited the late '20s and early '30s, when Art Deco was in its heyday, bringing together furniture and carpets that celebrate its aerodynamic lines and Jazz Age enthusiasm, invoking one of the most glamorous moments in the city's history, when Radio City Music Hall and the Chrysler Building were born. Grange describes the style as "more European in the decorative arts, more American in the architecture." The atmosphere the two have created is convivial, a fond tribute but by no means stuck in the past—a reminder that the values that found expression in Deco are still relevant today. "There is the same energy," Grange says—a dynamism propelled by the promise of the future.
Grange says he "helped" with the apartment and stresses that de Gunzburg and her husband found much of the furniture themselves. They also bought the art and positioned it. Even so, she is quick to point out the custom bronze-and-ebony shelving he designed in the library, and the black and white tile bathroom he conscientiously restored. "I adore the way houses express themselves and their era," Grange says. "The spirit was intact, and I didn't want to touch it."
Many designers and their clients become friends over the course of creating a home; de Gunzburg became a client after a long friendship. Grange has witnessed firsthand how she and her family live in their other four residences—in Paris; London; Saint-Rémy-de-Provence, in France; and Herzliyya, a town north of Tel Aviv. "My husband hates hotels," Terry explains. "So he likes to go only to our places. It's like running another company."
Not that running her own company isn't consuming enough. Her goal, she says, is to become a global brand—"like Apple, for cosmetics. I want to leave my children something besides money and art. I want to leave them a business." When she comes to New York, it is usually for work. She rarely entertains, except for European friends who drop by for a "pasta party." But, she says, it's not as casual here as it is in Europe. "You can't call people two days before—it has to be planned in advance." She does the cooking. In the dining room, in front of the Bacon triptych, they eat their tagliatelle.
How does one entertain at a table that occupies a significant place in the history of the decorative arts? Or hang paintings by the most important artists of the 20th century without turning a residence into a museum? The arrangement, de Gunzburg says, "has to be effortless."
Unlike the homes of trophy hunters intent on showcasing their most highly prized paintings and sculptures, de Gunzburg's apartment does not come off as eager to impress. In fact, its blue-chip contents seem to have been arranged primarily for the comfort of those who live there, with no agenda apart from the family's everyday appreciation of the exquisite things in their midst. Not all of the artists are brand names. Or, rather, they weren't when the de Gunzburgs initially invested in their work. Terry's daughter Eloïse Margoline, who acts as curator for the family collection, seeks out emerging talent and found Klara Kristalova, Jason Martin, and others early on. A work by Beauford Delaney, an undersung painter of the Harlem Renaissance, has pride of place. Not every object is precious, nor does every piece of furniture come with a pedigree. The DVD player in the bedroom sits on a stand from Ikea. In the study, a Crate and Barrel floor lamp keeps company with a Calder carpet, a desk by Eugène Printz, and a lamp by Isamu Noguchi. In the dining room, there's a group of painted earthenware beer pots from South Africa—de Gunzburg says they remind her of Constantin Brancusi's magnificent shapes. "One must treat very beautiful things as if they were natural or normal," Grange says. "Not as if they're incredible—although, of course, they are. Even if sometimes the objects themselves are serious, nothing is taken seriously."
Photos: An Eye for Beauty
Terry de Gunzburg in her dining room, with Thomas Houseago's Portrait Series I, 2010.

Photographer: François Halard
Pablo Picasso's Buste de Femme, 1955, hangs above Alexandre Noll's 1925 four-panel screen; on the shelves at left, ceramics by Picasso; on the shelves at right, ceramics by Tatsuzo Shimaoka; the armchairs are midcentury Paul Dupré-Lafon.

Photographer: François Halard
The dining room, with Francis Bacon's Studies From the Human Body: A Triptych, 1979; Emile-Jacques Ruhlmann's 1930s dining chairs; Ivan de Silva Bruhns's 1930s carpet; Jean Dunand's 1920s sideboard.

Photographer: François Halard
Beauford Delaney's Untitled, above André Groult's 1920s cabinet, with Picasso's Footballeur, 1965, inside; Klara Kristalova's Red Head II, 2006 (on floor); Anselm Reyle's Untitled, 2006 (right wall).

Photographer: François Halard
Jean-Paul Riopelle's Derive, 1952, sits with Salvador Dalí's Buste de Femme, 1977.

Photographer: François Halard
Jean Dunand designed the gold and lacquered doors, leading from the living room to the dining room, in Paris in 1929.

Photographer: François Halard
Two Picasso circa-1956 ceramic plates flank Max Ernst's Kopf, 1948.

Photographer: François Halard
On far-left wall is Beauford Delaney's Still Life With Idol, circa 1945; Georg Baselitz's Dresdner Frauen: Die Kranke aus Radebeul, 2000, is in far-left corner; Alexander Calder's Untitled Mobile, 1963 hangs; Serge Poliakoff's Composition, Blue, Red, and Grey, 1955, sits above the mantel; Damien Hirst's Untitled is on the near- right wall; Klara Kristalova's Days and Nights, 2007, and Cryboy, 2007, are on tables (right and center).