Teyana Taylor Recreated Spike Lee's Forgotten Phone Sex Film Girl 6
For her latest music video, Taylor revisits Lee's treasure trove of 90s references.
---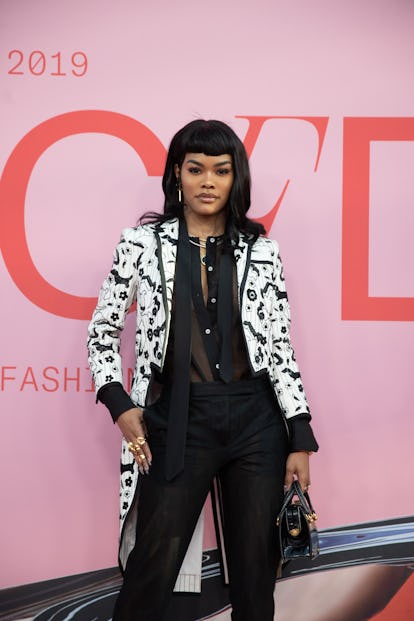 Melodie Jeng
It is a small tragedy that we've let the simple matter of "bad reviews," completely bury our collective remembrance of Spike Lee's phone sex-themed 1996 rom com Girl 6. Why let criteria like "successfully meeting its intentions" get in the way of the fact that it's a treasure trove of pure '90s culture? This is the film in which Naomi Campbell (wearing a "Models Suck" t-shirt) exchanges lines with Jennifer Lewis about "dick drip." Quentin Tarantino appears as himself, and allows Lee to send him up as an oafish, appropriative white male director. Madonna, in what might be one of her more successful acting roles, plays a chihuahua-carrying character who looks like Paris Hilton (years before there even was a public concept of "Paris Hilton") and prattles off lines like "toilet training, bestiality, foot fetishes, butt plugs…" MadTV great Debra Wilson is in it. Vanity Fair cover star Gretchen Mol is in it. Halle Berry, Debi Mazar, and Richard Belzer are in it. Oh, and to top it off, Prince did the entire soundtrack.
Well, Teyana Taylor is here to rev our remembrance of the film. She channels the classic in a video for her latest single "1-800-One-Night." Taylor directed the clip herself under her auteur alter-ego "Spike Tey" (a direct reference to Lee), and produced it with her all-female production company The Aunties.
Taylor embodies the original's film lead character, Judy, a struggling actress who moonlights as a phone sex operator. Her makeup artist Simone, dance captain (and in this case, co-story producer) Courtney Gilbert, plus model Nzinga Imani, and comedian Pretty Vee portray her co-workers.
Of course, the very final moment of the film reveals that Taylor shot it while pregnant (she's since giving birth to a daughter). Taylor shared in an interview with W that her most pregnancy was tougher than her first, and she does end the video by proclaiming "I'm too pregnant for this shit."
Watch the video below, alongside the trailer for the original film.
Related: Ciara Shot Her Powerful Rooted Video Two Days Before Giving Birth