In WandaVision, Teyonah Parris Is Much More Than a Sitcom Trope
The WandaVision actress sees every character she plays as a unique expression of Black womanhood.
---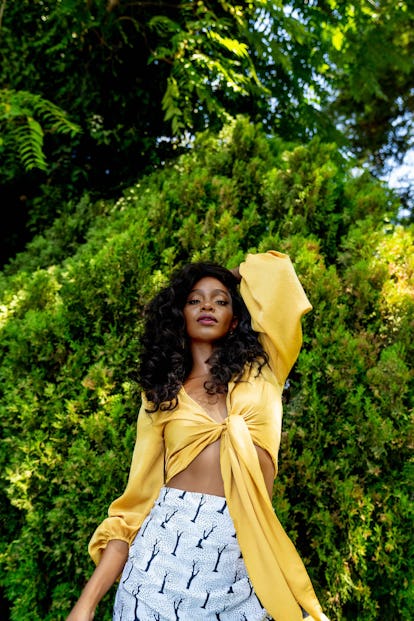 Teyonah Parris photographed by Lelund Durond. Styling by Clarissa Johnson and makeup by Regina Little.
If you are a Marvel superfan, you might have some inkling of what's going on in the trailer for WandaVision, the latest serialized entry into the Marvel Cinematic Universe streaming on Disney+. If you're a comic book neophyte, you might not. But that's okay—even one of the show's stars, Teyonah Parris, was confused when she was first tapped to play a key role in the show.
"When I auditioned, I didn't actually know who the character was," the actress revealed over Zoom. Parris had received some material to audition with, and knew it was a Marvel project, which was obviously a big draw, but the studio was very hush-hush about the actual role. Eventually, after receiving word that she got the part, she learned she would play Monica Rambeau, a character who eventually goes on to become the first African-American female superhero in the comics. "They didn't tell me where in her journey we would be finding her," she said. "Obviously she's an adult now, and when we last saw her in the MCU, she was a child in Captain Marvel."
But in WandaVision—which takes place in 1950s suburbia, is televised in black-and-white, and demonstrates a delightful departure from what is typical of Marvel—Parris is introduced as Geraldine, the neighbor to Wanda Maximoff (Elizabeth Olsen) and Vision (Paul Bettany), with whom Wanda strikes up a friendship. Once the actress walked into the Marvel Studios office and saw her character on the storyboards, she burst into tears, much to the surprise of the producers and executives in the room. Their explanation of how they planned to use sitcoms throughout the decade to deepen the story of Wanda and Vision's love story made her emotional, but the actress also promised that as much as the series commits itself to using the structure and tropes of American sitcoms throughout the decades, it will also have "that big MCU, blockbuster, epic fight aspect of it as well."
Geraldine appears in full midcentury housewife garb for the first two episodes of WandaVision, but by the third, she is a groovy, chic (and quite funny) 1970s counterpart to Wanda in an otherwise nondescript suburb. Geraldine takes on the "sitcom neighbor" trope—and during this '70s portion of the show, Parris said she took inspiration from Thelma and Willona (the neighborhood gossip) from Good Times to play the role just right. But her presence as a Black woman in a white televisual world brings up the question of diversity in the cast, and in the WandaVision universe. If the show flits through decades as fast as you could change the channel on a remote, then how would they plan to represent the Black lead of the show? Would the racist history of American sitcoms, and in effect, of America, be discussed at all?
"In WandaVision, we are paying tribute to the classic sitcom, but it actually is a diverse cast within the structure of this show," Parris explained. "It was important for me to have the conversation with my director and head writer about making sure that we are all on the same page as far as we're not ignoring the fact that there is a whole Black woman traipsing around here and this is not typical of this American sitcom style," she said. "We worked to figure out a way to balance and integrate it in a way that felt right for what we were trying to accomplish."
By the third episode of WandaVision, Geraldine is also sporting an afro. Setting the stage for a future superhero with natural hair is an unprecedented moment for the Marvel Cinematic Universe. In the comics, Monica Rambeau wears multiple hairstyles, and Parris wanted to make sure that the versatility drawn on the page would be reflected on screen. "Classic Monica was definitely wearing a natural afro out, so I felt it important that when we're introducing her she would have her natural hair, and then update it to the 2020s for what that might be," Parris said, noting that working with Marvel has been a collaborative process. "I see it as a huge opportunity when you're introducing a Black female superhero. I am excited and I also see the responsibility that comes with that. It's imperative to me that we pay attention to the details, so how her hair is matters, how we're presenting her matters, in ways that might not always show up for other characters. With her hair, it was a conversation and they were totally open to it," she added, explaining that she presented the creatives with multiple natural Black hair options; "Are we thinking natural twist-outs?" she might ask on set.
"There are so many different types of us. As Black women, as Black people, we are not a monolith. I look forward to the day when there are so many Black female superheroes, we all have our pick of who represents us the closest, and not just because we're the same color," she said. With Marvel's new "phase four" the studio will introduce the first Asian superhero in Shang-Chi and the Legend of the Ten Rings, and the first deaf superhero and the first gay superhero in The Eternals. "I also look forward to a time when there are so many different ethnicities, races, backgrounds, creeds, religions of superhero characters to choose from that are on our screens."
Parris grew up in South Carolina, and attended Julliard right after high school. "I definitely have wanted to do this since I was a young girl," she said with a laugh and added, "My mom and dad would say I've been a ham forever."
But like many of us living through a pandemic, she never could have predicted how this past year of her career would take shape. When the country went into lockdown last spring, the actress was all set to work on and promote on a slate of projects including WandaVision, Captain Marvel 2, and They Cloned Tyrone. Instead, she ended up spending time watching The Wire and teaching herself Spanish. Now that production has been deemed safe enough to ramp up again, she finds herself back to a busy filming schedule, workout schedule (a decision that has been more in line with self-care than any instruction given to her by Marvel to get superhero ripped), and is eager to be directed once again by Nia DaCosta for Captain Marvel 2 (the two worked together on Candyman, which has been pushed to a summer release).
Parris sees every character she plays as a unique expression of Black womanhood—whether she's embodying a curious neighbor like Geraldine in a sitcom like WandaVision, or the superhero Monica Rambeau in Captain Marvel 2, a concerned Chicago-based gallerist in Candyman, or Dawn, Don Draper's secretary in Mad Men. In our conversation, another example she pointed out was Kaneisha from the Jeremy O. Harris-helmed Slave Play, a role she played before the production went to Broadway.
"It was a lot to process, but I did feel that it was a very smart, brave, unique take on what it is to be a Black person in a white space and particularly in an interracial relationship. This Black woman's experience being different than my own doesn't make it any less valid. It doesn't make her experience any less important to also be told," she said of the controversial production. "I'm drawn to pieces of art that have something to say. And then more particularly I am Black, I am a woman, and I take that with me everywhere I go. I can't not. 'What is this project saying about this person, this Black woman's experience, in particular?' is what I'm drawn to," Parris explained.
If there is a thread between the varying performances across the actress's career, it's that each role spoke to her because of its difference from the one that came before it. "I want to tell different stories. I want to amplify our voices in different capacities," Parris said. "Because I do think it is important for the community at large, for the world at large, to engage with our humanity in ways that they aren't always able to, but when you're in their homes and they're on their TVs, on the big screen, onstage, it gives people a chance to do that."
Related: Elizabeth Olsen's Style Evolution Stands Out on Its Own