Thaddeus O'Neil's Guide to Surfing the Globe
The model-turned-fashion designer grew up surfing the waves of Long Island, NY–now, he's taking on the world.
---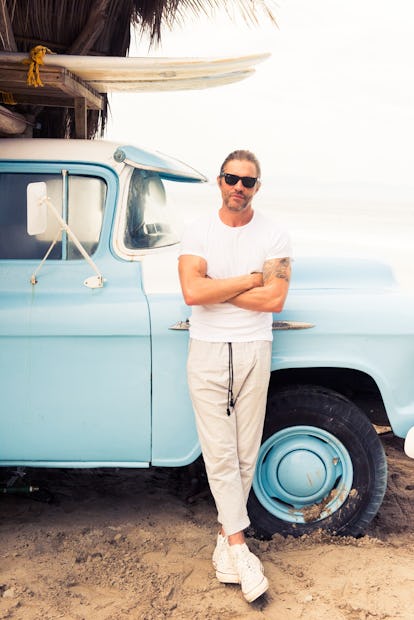 For his Spring 2017 show at New York Fashion Week: Men's, fashion designer Thaddeus O'Neil drew inspiration the surf culture of Japan–something he knows a lot about. Although he grew up surfing on Long Island, the former model is now a world traveler–and he's picked up a lot of tips, and inspiration, along the way. Here, O'Neil shares his very specific guide to being a jet set surfer.
Where did you learn to surf? I grew up surfing on Fire Island, which is one of the most beautiful places on Earth–and still my favorite place to surf when it's good. My dad taught me. He would pile me and my friends into his pickup truck and take us all to the beach. In the summer we would spend the entire day there and come home starving, over sunned, and so exhausted that my mum would have to literally help me up to bed.
What was the last place you went surfing? Fire Island. But before that Japan.
Where is the next place you plan to go surfing? Fire Island. But I'm planning a trip to Southwest France in August.
What are the most amazing, epic place around the world you've ever surfed? Peru, Mexico, Indonesia, South Africa, Australia are all pretty magical places to surf and spend time.
What makes a great surf spot? Aside from the obvious attributes specific to the practice of surfing, i.e. good, consistent waves, a great surf spot and surf town has a rich local culture, colorful, eccentric, warm people, natural beauty or architectural interest. Essentially all the things that enliven you and make the world feel fresh, igniting your curiosity and reawakening you to life, are the same things that give a spot its singular identity and charm. Surfing is a complete experience. It's an adventure.
What is the most disappointing surf trip you've ever been on? Even the most disappointing surf trips often have the most distinct authority on your memory for the very reason that they were excruciatingly disappointing or harrowing or filled with comedic misfortune. I once flew all the way to Moriches and drove around the island for a week without finding a single wave to surf. In my jet-lagged, bleary-eyed delirium I ordered caviar and somehow missed the first digit of the price on the menu, partially because in the context of $15 burgers, $515 dollar caviar eluded cause for alarm. I ended up taking a lot of beautiful portraits on that trip in the stark absence of waves, so at least there was a silver lining. Surfing is a complete experience, so as long as you remain open to all that it is and entails, it's actually quite difficult to ever be truly disappointed. It's really up to you.
Do you have any tips for packing light for a surf trip? You typically don't need much in the way of clothes for the beach. Less is always more.
Where do you usually stay when you're traveling? It totally depends. I like to stay with friends when I can, it makes a place feel more natural. Otherwise air b and b.
What else do you like to do when you're traveling? I like to make photographs, and I always bring my mini water color set, and I always read. I can't travel with less than 5 books. I'm not a tremendously avid or diligent foody, but I usually hunt down a few places that I will return to again and again, meal after meal. I'm a creature of habit and it makes me feel at home. I was recently in Portugal and I must have eaten at the same restaurant 5 meals in a row. The staff were like friends and the octopus and wine were to die for.
What do you wear when you're surfing? It depends on the water temperature, but board shorts or my special metallic sequin wetsuits that I make. They're pretty eye-catching and aesthetically invigorating and really open the imagination to how cosmic and strange and beautiful and sublime surfing actually is.
Any hair or beauty products that you rely on for an active lifestyle? Lots of sunscreen and moisturizer, always! Aveda and MAC create really great non-greasy, everyday sun protection and delicious moisturizers. My skin really takes a beating in the sun and salt and wind so I have to protect it and its nice to give it a treat after a long day of surfing.
How does surfing and the surf community influence your designs? Aside from my family and my work, surfing is my greatest passion and is what frames my life, my motivations and concerns and experiences. It is also a supremely satisfying, joyful, meditative, humbling, restorative pursuit that reboots your entire being and outlook and enthusiasm for living. And it is a beautiful thing to behold, as is the natural environment in which it is enacted. So on a basic aesthetic level it constantly informs my work and way of looking and sensitivity for the world, which is the most important thing for a designer really.
Do you have any advice for someone going surfing for the first time? Spend a few hours on the beach watching the ocean taking it all in. Really let the rhythms of the waves, the surfers' gestures and approach sink into you. It's surprising how much your eyes can almost subliminally communicate to your body. I would also find a spot at a slight remove from the more advanced surfers and ride your first few waves on your stomach, lean on the rails and feel how they respond. And keep it fun and loose. You're out there to play in the waves and be in nature and with other smiling happy human beings.
What surfers do you most admire? In terms of pure beauty and grace I've always admired Tom Curren. I've always loved the attitude and funk of Buttons, the punk and out-there sartorialism of Bunker Spreckles, the soulful fluidity and princeliness of Dvid Nuuhiwa, the supreme intellect, ingenuity, and fine craft of countless board makers from Simmons to Velzy to Lis. I don't really follow professional surfers or surfing these days all that much, but I do love to watch Dane Reynold's surf. He has a certain abandon that is poetic and playful and dead serious and bucks the orthodoxy and reductionist calculus of "pro" surfing. If Georges Bataille or Marcel Duchamp or Tadao Ando were surfers I imagine them surfing like Dane.
How do surfers influence your fashion week presentations? Surfing opens a poetic, romantic, mystical, playful, spiritual, emotional world. I try to bring some small feeling of this world to all my fashion week happenings.
Secrets of the Jet Set: 10 Up-and-Coming American Designers Reveal Their Travel Tips
Aurora James produces all of the pieces for her footwear line Brother Vellies in Africa—so naturally, she's on the road at least every other month for several weeks at a time to meet with artisans and get inspired. At this point, the designer has packing down to a science. "I usually pack thirty seconds before I'm out the door—as an accessory designer, I usually roll with like 7 pairs of shoes, but it's part of the fun. And about 8 dresses. I never bring anything black with me," she says. "Why would you travel and wear black? It's like a waste of life. You have to bring color, you can wear black in New York." Her key to traveling light? "I totally utilize the hotel's cleaning services. It's shocking to me how many people do not!"

Photo by The Coveteur, courtesy of CFDA and W Hotels.
Model-turned-fashion designer Thaddeus O'Neil is an avid surfer—and takes sunscreen really seriously. "It's essential. Neutrogrena is one that I bring a lot. I use, like 60+ on my face, for sure. I also put zinc on my face, because when you're out on the water the sun is so bright. I look almost tribal, covered in white." Other travel essentials include a surfbord, lots of books ("I'm not really a kindle person."), a journal, sandals, sunglasses, a hat, a watercolors set, and plenty of his own designs. "I wear my own brand 90% of the time," he says. "Look at these pants! They're made for travel."

Photo by The Coveteur, courtesy of CFDA and W Hotels.
Korean-born, New York-based women's wear designer Ji Oh lived in London for years—but her favorite place to shop is in Sweden. "Whenever I go to Paris for work, I go to Sweden for two or three nights to shop. I buy a lot of t-shirts. Like, a lot. They are really well made, the fabrics are amazing, and the cut is never off. In other countries, quality really varies depending on the price, but nothing is ever bad in Sweden." She also likes to pick up little tchotchkes, such as keychains or bathing suits, when abroad. "They aren't necessarily rare, but they are special to me!"

Photo by The Coveteur, courtesy of CFDA and W Hotels.
Molly Yestadt, the founder of luxury hat label Yestadt Millinery, always wears baseball hats and a scarf on a plane. "If I take a nap, I just pull the hat over my face and then you don't get bothered!" she says. Yestadte also has advice for how to bring hats on a plane, without ruining them. "You can wear it, or put it in a tote under the seat in front of you or in an overhead compartment, or carry in a hatbox—which is fabulous! We also make packable pats, that can go in a suitcase with a t-shirt in the crown. It's classic, but it's stable and it works!"

Photo by The Coveteur, courtesy of CFDA and W Hotels.
Daniel Dugoff, the founder of New York-based men's wear brand DDUGOFF, makes clothes for "normal American guys who are interested in well-made products, but have a fairly casual lifestyle." So it makes sense that his favorite mode is pretty low key. "I'm not really a yacht guy, I really like trains," he says. "There's something really nice about traveling from city center to city center, instead of taking a cab an hour outside of a city, waiting at an airport for two hours, and flying somewhere just to get back into a city." Whether on a train or a plane, Dugoff likes to pack light. "I'm kind of an anxious traveler, so I try to bring as little as possible. I never check a bag unless I have to." He had to make an exception for the trip to Mexico, though. "I wanted to bring a lot of sunscreen," he laughed.

Photo by The Coveteur, courtesy of CFDA and W Hotels.
Jason and Julie Alkire, the design duo behind women's wear label Haus Alkire, have been married for nearly twenty years—and in that time they've gotten their travel regimen down to a science. "We always take a carryon with some things in it on a plane. A fresh pair of clothes and the three things you each would need to get by for the full trip," Jason says. "Just in case." For Julie, that means a versatile Little Black Dress, of their own creation, a red MAC lipstick and "OG black chap stick, it's like a lip primer," and Bare Minerals foundation. "If your bag gets lost–you can throw on red lipstick look great."

Photo by The Coveteur, courtesy of CFDA and W Hotels.
Women's wear designer Charles Youssef worked for Calvin Klein, Ralph Lauren, Gareth Pugh and Cerruti before launching his eponymous collection in New York, in 2014. While running his own business keeps him local most of the time, the young fashion designer is lusting for an inspiration trip to Tokyo or Kyoto, to see the beautiful buildings and architecture. When abroad, he relies on a simple uniform of a "black t-shirt, some black pleated trousers and glasses." For warm weather, he swaps out the pants for pleated shorts and packs extra grooming products. "I bring a lot of moisturizer, from Shiseido Men's, and also use Neutrogena moisturizer with sunscreen in it."

Photo by The Coveteur, courtesy of CFDA and W Hotels.
Alexandra Alvarez, the 29-year-old designer of bodysuit brand ALIX, designs a body-conscious product—but loves traveling in oversized pieces that still look chic. "On planes, I always wear a t-shirt; culottes, because they are big and comfortable but still look decent; a sweater; and close-toed shoes. If not, I have socks in my bags so I can change on the flight." Once she arrives at her destination—she lives in a linen button-down shirt, tied at the navel. "The best one I ever got was at Massimo Dutti, in the men's section. It was this white linen shirt—the best ever. I wore it all summer long last season, until the drycleaner misplaced it."

Photo by The Coveteur, courtesy of CFDA and W Hotels.
Michael Miller and Katie Deguzman, the duo behind sustainable jewelry brand K/LLER COLLECTION, met as students at Parsons—and see eye to eye on just about everything. When asked about the one item they would never wear on a plane, both shouted in unison, "Heels." "I made that mistake once," Katie said. "But then again, I'd never wear Uggs either." "I always wear drop crotch jeans, an oversized shirt, a giant scarf, and some sort of cool slip on shoe," Michael added. "And tons of jewelry," Katie said. "I love how you can now go through the 3-d scanner with all your jewelry on, and I don't have to take it off!"

Photo by The Coveteur, courtesy of CFDA and W Hotels.
Tim and Dan Joo, the brothers behind accessories brand Haerfest, are always thinking about travel with their designs. "Our backpacks are for someone who has a coffee in one hand an an iPhone in the other," Tim says. But they certainly understand the need to unwind and disconnect. In order to handle the New York grind, the brothers always add a day or two to a business trip, Dan explains, "to visit any museum or restaurants we wanted to go to. It's all about work life integration."

Photo by The Coveteur, courtesy of CFDA and W Hotels.
10 Up-and-Coming American Designers Reveal Their Travel Tips