Thandie Newton Turned Down Charlie's Angels Because of the Director's Sexist Vision
The actress turned down the blockbuster role after being on the receiving end of sexist remarks from the Charlie's Angels director and racist remarks from studio executive Amy Pascal.
---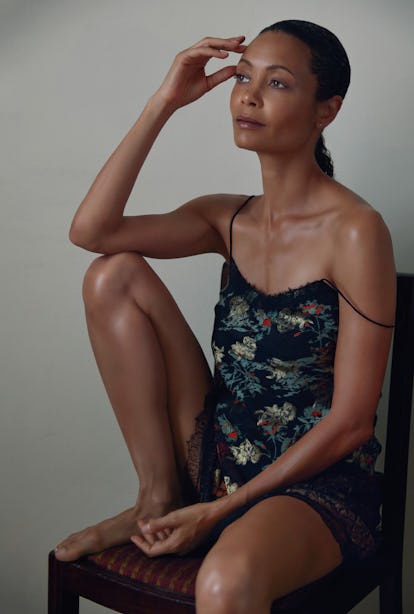 Photographed by Mona Kuhn, styled by Patrick Mackie.
Few performers are as outspoken as Thandie Newton, but the Emmy-winning actress is leaving no stone unturned when it comes to discussing her experiences with sexism and racism in Hollywood.
In a revealing interview with Vulture, Newton spoke candidly about being a survivor of sexual abuse by director John Duigan and the racist experiences she had with Hollywood executives.
The actress also opened up about "one of the biggest movies" she did not end up starring in, due to the director's insistence that the opening shot of the film be an extreme close-up of Newton's behind. "The director said to me… You're going to think it's like yellow lines down a road, and you pull back and you realize it's the stitching, because the denim is so tight on your ass it's going to look like tarmac,'" she said.
Then, the head of the studio met with Newton and asked if she could be more "believable" when playing the character who had been written as a university-educated woman, which is also an identity the actress claims for herself. The studio head told Newton that even though both she and the character come from educated backgrounds, that she saw the actress as "different" and requested she make some changes. "She's like, 'Maybe there could be a scene where you're in a bar and she gets up on a table and starts shaking her booty.' She's basically reeling off these stereotypes of how to be more convincing as a Black character," Newton said. "I didn't do the movie as a result."
The film in question? It was Charlie's Angels, Newton revealed, which was directed by Joseph McGinty Nichol (also known as "McG"). And the studio head who made the racist remarks was Amy Pascal, whose emails—which included speculation on whether or not Barack Obama preferred movies with enslaved Black people, like Django Unchained, 12 Years a Slave and The Butler—were exposed during the massive Sony Pictures hack five years ago. (In a statement, Pascal insisted she has "no recollection" of those casting meetings as Newton describes them, but that she does "take her words seriously.")
According to Newton, starring in the Charlie's Angels movie in 2000 would have been "a big deal" for her, as she would have embodied one of the three iconic spy roles that eventually went to Lucy Liu (instead of Newton), Drew Barrymore, and Cameron Diaz. Before she turned the film down, Vogue had even asked her to pose with Barrymore and Diaz for a cover, but she couldn't do it. "I didn't want to be put in a position where I was objectified. That just didn't feel good," she said.
And Newton harbors no ill will towards the cast of the movie. "This is a long time ago anyway, and all those girls are brilliant," she said. "But if that was me now, I'd want to disrupt rather than run away. I think that's probably the change in me."
Related: Thandie Newton Says the Male Actors on Westworld Are Way More Squeamish About Nudity