Thandie Newton Says the Male Actors on Westworld Are Way More Squeamish About Nudity
The actress participated in The Hollywood Reporter's annual dramatic-actress roundtable to discuss gender inequity in Hollywood.
---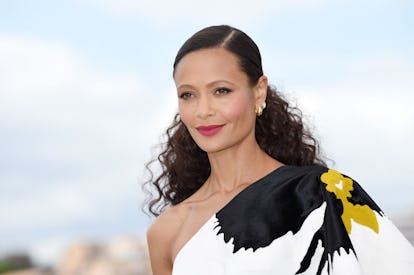 Dominique Charriau/Getty Images
On Wednesday, Thandie Newton, the highlight of HBO's mystifying Westworld, was featured in The Hollywood Reporter's annual roundtable conversation for dramatic actresses, and she shared some tough truths about gender bias in Hollywood.
As part of a conversation that included Angela Bassett, Claire Foy, Maggie Gyllenhaal, Elisabeth Moss, and Sandra Oh, Newton joined her fellow actresses to participate in a dialogue about inequality in the industry—particularly discussing the wage gap for television actresses and the thorny intricacies of onscreen nudity.
The likelihood of a woman appearing nude onscreen is almost three times as likely as a man appearing nude in Hollywood films, according to a report from The Guardian. When responding to the moderator's question of what it is like to be a woman who is constantly asked to perform scenes in the nude, Newton shared an anecdote from the set of season two of Westworld, on which the actress plays an extremely humanlike "host" robot named Maeve (her character is introduced to audiences as a brothel madam and subsequently appears in many scenes with few or no clothes), and how her experience has differed from that of her male costars. "With the season premiere, [my costar] Simon Quarterman was completely naked, and he was terrified. There was no prosthetic penis there. He decided to go for it," Newton explained to the table. "And just being aware of his vulnerability … What I love about Westworld is that it's showing the vulnerability and the objectification of a person, and if you see a person naked and not in a sexual context, suddenly you don't want to look."
"But that's why I took the show," she continued. "I've been objectified, I've had directors lie to me when I'm in a naked situation on a movie and been told that they're cutting here," Newton explained, motioning from her bust to the top of her head. "When in fact they're shooting from here," she said, indicating her entire body, "so you see everything."
"I've had terrible things happen, so to be able to say to the showrunners of Westworld, 'I am willing to stand for 75 percent of this season totally naked' because it wasn't a sexual context [is powerful]," Newton declared. The actress also pointed out that in contrast to her female costars, when many of the men on Westworld are asked to do a nude scene, they are comfortable vocalizing any insecurities they have concerning their bodies. "To see this man terrified of being naked when Evan Rachel Wood and I have grown accustomed to it, sitting there, having a chat, a glass of water, totally naked, it was very touching," she said. "And he's learned that it's really tough, and the more men that do it… And men are also really worried about how their bodies look. So much more worried than us. Like these guys on Westworld are all, 'How does my bum look? I'm really scared, can you do some shading here and there?' And we're like, 'Really?'" Newton said with a laugh.
Her fellow roundtable participants Maggie Gyllenhaal and Elisabeth Moss—both of whom have producing credits on The Deuce and The Handmaid's Tale, respectively—further discussed the injustice that goes on behind the camera when nude scenes are discussed between actors and directors on set or before filming. Both Gyllenhaal and Moss revealed that their producing positions allow them to have final approval over all nude scenes in which they appear. It is a contractual addendum that is so rare for most actresses even Newton noted she did not realize it could be available for her. "I wish I'd known that," Newton said. "That's why we all need to talk."
Related: Thandie Newton Wears a Gown Honoring Black Star Wars Characters in Cannes