Thanks to Ladybird, Vegan Food is Finally Cool
Serving up plant-based food like truffle fries with black vinegar and caramelized artichoke hearts, Ladybird is the new Village hotspot that's redefining vegan food.
---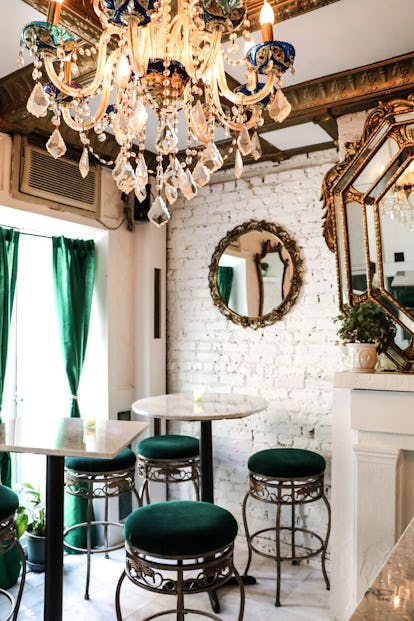 Last year, NYC-based restauranteur Ravi DeRossi had an ethical awakening. He was caring for his ailing cat for months, and kept a journal to reflect on his life and choices. "When he died I rethought my life, what I was about, my morals and goals. I decided I was going to turn all my restaurants vegan." An ambitious goal for any restauranteur, especially DeRossi, who has fifteen booming restaurants and bars in the heart of Manhattan, where rents are high and the majority of culinary demands are still meat and dairy-based. "It's hard to be a conscious business man," admits the 42-year-old. "Capitalism and a moral compass usually don't go hand in hand." But DeRossi made them align, beginning with his hit East Village vegan hotspot Avant Garden last September, followed by Mother of Pearl a few months later, and now with Ladybird, an eccentrically decorated vegan tapas bar on MacDougal street. "People say it makes them feel as if they were a snow queen in an ice palace," he jokes of his gold ceilinged haunt, that's decked out with emerald green bar chairs and white marble walls and floors.
And while DeRossi is now vegan himself, this wasn't always the case. A former painter, DeRossi found himself unable to buy supplies after September 11th devastated the city. In order to make ends meet, he opened a wine bar called the Bourgeois Pig in 2002. It quickly became a Village mainstay, which encouraged him to open his second bar, Death & Co (an international phenomenon), followed by thirteen other properties shortly thereafter. Despite his success, DeRossi found himself discouraged and in a moral bind. "Factory farming is the number one creator of greenhouse gases, and we would go through one thousand pounds of cheese a month at the Bourgeois Pig alone," he says. So in July, he shuttered its doors and opened Ladybird just four months later in its place.
100 percent plant-based, Ladybird (named after the song by Nancy Sinatra) has a strict commitment to sustainability, without sacrificing its so-called cool factor. Using locally sourced, organic ingredients whenever possible, the mouth-watering menu is an assortment of classics like truffle fries with black vinegar, as well as more creative dishes like caramelized artichoke hearts, garnished with marcona almond, nut-based "crème fraîche", and maldon sea salt. Even the cocktails are dairy-free, and he refuses to use alcohol containers that come in any leather casing. The cocktail menu mimics the food menu, meaning they have an avocado cocktail to go with your side of avocado toast.
Between décor and delectable food, DeRossi has redefined the vegan culinary game. "Vegan doesn't mean hippie dippy crunchy granola like it did five years ago," he says. "I'm trying to give people options as to how to do better for the environment and their own bodies." Mission accomplished.
Calling Card A chalkboard with "Ladybird" scrawled across, beneath a white door tucked away on MacDougal Street.
Tribes Everyone from editors to artists.
Prices Food, $6 – 32, wine and beer, $11-18
The Basics 127 MacDougal Street 212-475-2246 Open daily, kitchen 6 p.m. – midnight, bar stays open until 1- 2 a.m.
Watch: Chanel Spring 2017 Was All About "Timeless Femininity"