That '70s Show Is Now 20 Years Old, As the Cast Reminded the World By Sharing Throwback Photos on Its Anniversary
"What a long strange trip it's been... in Forman's basement."
---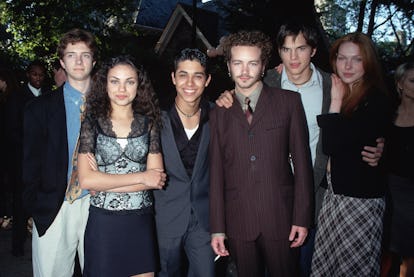 Mitchell Gerber/Corbis/VCG via Getty Images
Yes, it really has been 20 years since That '70s Show first debuted. For fans who watched in real-time, and thereby know the pain of realizing how long it's been since it premiered, there is at least one source of comfort: All of the throwback photos shared by the cast in celebration of the show's anniversary.
The sitcom's star Topher Grace shared an early photo of his costars Mila Kunis, Ashton Kutcher, Laura Prepon, Wilmer Valderrama, and Danny Masterson. "Ultimate #tbt," he captioned the photo, shared on Thursday, August 23. "Hard to believe That '70s Show premiered 20 years ago today. Few people can say they owe everything to one small group, but in my case it's true. To quote the '78 Point Place High yearbook 'What a long strange trip it's been… in Forman's basement' #hellowisconsin."
Valderrama also shared a sentimental photo and note on Instagram, both professing his love to his cast mates and teasing them. "The kid who had the two scenes in Traffic," he joked about Grace, before going in on everyone else. "The cat with the curly hair that was in Dracula 2000, that Russian girl who said she was 18 but was actually 14 in the pilot.. the chick on Orange is the New Black, the guy who hosted Punk'd and the bad ass who played the main villain on Robocop." More seriously, he wrote, "We were a family, and will always be… I love you guys always, you guys made me who I am today.. and we will always have each other."
Prepon had the most rare throwback photo, though, of the cast seeing their faces blown up to cover a bus. "#ThrowbackThursday to the first press tour for #That70sShow – we were all blown away when we saw this bus!," she posted on Instagram. "Can't believe the show came out 20 years ago today…such a special group of people. So lucky to have been a part of it. ❤️❤️❤️'"
She also shared an old photo of her and Grace on Twitter, writing, "Babies!"
While Kunis and Kutcher, who fell in love on the show and later married, didn't add to the chorus on social media, they're frequently treated to throwback photos at home. That's because their one-year-old son Dimitri Portwood Kutcher has a That '70s Show t-shirt in his rotation, as Kutcher recently shared a photo of it on Instagram.
Kutcher also recently shared a video on Instagram where he may or may not have been in character as Kelso. "Found a beer #that70sshow," he wrote in the caption of a clip where he flashed a beer named Kelso. Some things haven't changed over the past 20 years.