The 6 Best New Beauty Tools and Facial Devices
If you're looking to integrate a face tool into your regimen, we've done a roundup of the most effective skin devices that have recently launched.
---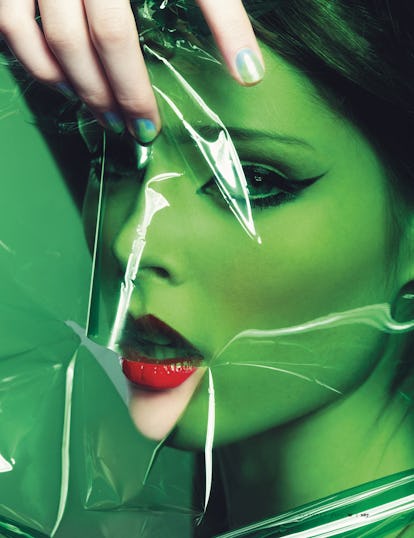 Craig McDean
The current, predominant trend in the beauty world isn't a prized ingredient or treatment. Instead, there has been an onslaught of facial devices, tools, and gadgets on the market of late. Companies are finally giving consumers more of what they've always craved: access to professional-grade products. There isn't a skin guru in town who doesn't have a tool they swear by—and in terms of skincare, every beauty junkie knows the "face device after serum" step is gospel to an evening skin routine.
But like most trends that will eventually turn into beauty mainstays, there's the inevitable game of deciphering quality from the duds. (My social media feed is rampant with face tool ads that appear misleading; testimonials run amok from relatively unknown people in their early 20s lauded as experts, assuring the public they know all about cell turnover and smooth skin.) There's also a handful of devices that have jumped on the face tool bandwagon far too quickly and have been recalled, while others have failed with their Xanadu-like promises to show any real results, even with consistent use.
If you're looking to integrate a face tool into your regimen, we've done a roundup of the most effective skin devices that have launched in the last year to help ease your search. Some prices may seem outrageous initially, but take into consideration that if you haven't had a facial in six months, chances are, your new state of the art face tool has more than already paid for itself.
LYMA Laser, $2499
This revolutionary at-home laser, which packs a painless punch and provides swift results, launched earlier this month. The LYMA Laser is the strongest at-home laser face tool on the market, powerfully promoting healthy cell turnover while transforming scars, wrinkles, rosacea, acne and hyperpigmentation.
Why it's different: Not only is the European device four times more powerful than any other at-home laser tools, it's also 100 times more powerful than any at-home LED light tools, placing it in a league of its own. While the device has four infrared blue lights to remove excess surface, what makes this product effective is that the infrared laser light penetrates deeper than any other products into the lower layers of skin where muscle and deep tissue regenerate. The mitochondria then turns over all cells to regenerate faster and more effectively. This is one of the few laser treatments that is also painless, as the laser's two internal diffusers diffract the laser into 25,000 fragments of light across the device's lens, which removes all heat. Unlike other devices that use heat to cause damage, then to speed up regeneration, there is no cell damage for this treatment. Use the laser with LYMA's oxygenating mist and serum after cleansing.
Celluma iPro, $1995
The latest from Celluma, the professional LED device company beloved by all the major skin pros, is the first battery-operated, mobile, professional-size LED device.
Why it's different: The iPro is easy for everyone to use, and you can use it on any part of the body, without a wall outlet, since it's battery-operated. Like all Celluma devices, it combats acne and wrinkles, and promotes toning, muscle repair, and any dermal healing (think fresh scars). Launched earlier this year, it's a favorite with beauty experts Nikki DeRoest, Adeela Crown and Joanna Czech, this is the only FDA-cleared LED light device that emits blue, red and near-infrared in a single device. It's so versatile that even your pets can use the iPro, and will benefit from Celluma's healing abilities.
Ziip Ox, $480
This new handheld nano and microcurrent device launched earlier in 2020 to target the beauty-conscious consumer; it uses nano-current energy as a holistic skincare approach, comes pre-loaded the Lymph and Lift treatment and is accompanied with a clean, organic conductive gel.
Why it's different: This treatment stimulates the skin and works to drain the lymphatic system and visibly lift the face. There is also an accompanying app that gives eight additional skincare treatments to fight fine lines around the eyes, tackle hyperpigmentation, depuff, and help firm and tighten overall.
NuFACE Fix, $149
In terms of implementing skin tool maintenance, The Fix is the easiest of all the tools listed here. Launched at the end of last year, the NuFACE device was designed to simplify your beauty routine at home or on the go. It mimics the body's natural current and provides cumulative results over time, building skin's suppleness.
Why it's different: The device, no larger than a tube of mascara, can help treat lines around the eyes, mouth, and forehead—and also plumps up the lips in under five minutes if you use it every day.
Opte, $599
This tool is perfect for anybody with skin pigmentation who wants to leave the house without having to apply a full face of makeup to cover spots. A non-invasive, precision technology beauty device, Opte will detect hyperpigmentation and immediately camouflage spots, while helping to fade their appearance over time.
Why it's different: The device uses an enhanced digital camera that captures 200 frames per second that analyze each image using a proprietary algorithm to detect tonal imperfections not visible to the human eye. Using input from the algorithm, Opte precisely prints picoliter droplets of Spot Optimizing Serum (an opaque pigment) on only the target areas using a camouflage technique. Opte also adapts to each person's face, applying serum only where needed to allow natural radiance to shine through. This personalization avoids the pitfalls of shade-matching, and instead offers a product intended for 98% of all skin tones using only three shades.
Aerocleanse, $99
Just launched this summer, the new cleansing device helps to remove makeup and grime more effectively.
Why it's different: It uses the power of air and is super gentle to aid in cleansing, bringing a lather from the product to your skin, giving it a clean-feeling touch without affecting the skin's natural barriers, which can cause over-drying. Aerocleanse also helps provide light exfoliation—sloughing off dead skin cells without overstimulating. Use this tool once a day, preferably in the evening.
Related: Shen Beauty's Jessica Richards Gives Her Top Product Picks for Combatting Stress