The '80s Will Be The Biggest Trend of 2017, For Better or Worse
Just about everyone agrees: '80s inspired clothing will be the biggest thing for 2017, but not everyone is excited about it.
---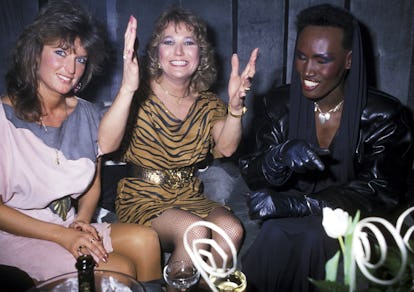 WireImage
Marc Jacobs was on to something when he threw a recent party in Brooklyn with a wildly specific dress code that started with the mandate of "Chic '80s." Apparently, in 2017 we'll all be wearing 1980s-inspired clothing, at least according to two of the latest analytical forecasts of next year's trends.
It all sort of makes a bit of sense. We'll have a controversial celebrity turned Republican politician in the White House. Popular music is as synth-heavy as it's ever been since that decade. People are actually excited about new Star Wars movies. Stranger Things is the most buzzed about show of the year. Makeup on men is an even bigger trend than it was during the glam rock heyday. Heck, Hollywood is even rebooting Dynasty.
According to Pinterest's in-house analytic team, the '80s trend isn't about to die down. According to WWD, the team has analyzed the trends that have seen the most year-over-year pinning growth over the past year and that seem primed to peak in 2017. Among their forecasts is the belle sleeve top silhouette taking over the off-the-shoulder look, an even more heated interest in flair (as in things like stickers and pins), and, of course, more '80s.
"Other big shifts were in political Ts (no surprise there), backless shoes — and not just the mule — and multiple earrings," writes WWD. "That goes hand-in-hand with the popularity of Eighties-style trends, such as high-tops, peg legs and denim skirts."
Meanwhile, retail analytic firm Edit is also forecasting trend temperatures in the '80s as well.
"The 1980s will be huge — everything from power suits and slouchy tailored trousers for office wear, through to off-the-shoulder looks, activewear and [over-the-top] ruffles," forecast Edit.
So, while there are some disagreements as to the fate of off-the-shoulder tops, both agree that '80s are in.
Which isn't a surprise. Designers have packed recent collections with '80s details. Hedi Slimane's last collection for Saint Laurent saw more dramatic shoulders since the series finale of Dynasty, and other designers followed suit with Reagan-era stylings in their Spring 2017 collections.
Li Edelkoort, the Danish consultant widely regarded as the master of all fashion trend prognosticators, also sees fashion's increasing obsession with trends of the past as well, but she's not happy about it. In a recent talk in London, Edelkoort decided to forgo a traditional trend-setting talk, and instead delivered a stern chiding of fashion's recent practices.
According to Business of Fashion, she pointed out that designers of the past made their names by creating radically new silhouettes and types of clothing, while too many today rely on simply reinventing old ideas from the past.
"These categories of designers are working on clothes and are no longer concerned or interested in change for change's sake – unanimously declaring newness a thing of the past," Edelkoort said. "With this lack of conceptual innovation, the world is losing the idea of fashion."
Which does make a certain amount of sense. Why head to the department store to find the latest trend when you can just as easily find it in the thrift store?