Dakota Fanning's New TV Show The Alienist Looks Dark, Just Like She Likes It
The actress's first TV role in over a decade has her secretly hunting down a serial killer on the loose in 19th-century New York, whose target is young male prostitutes.
---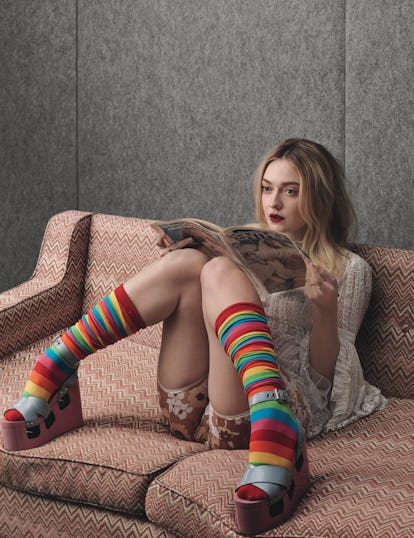 Photographs by Craig McDean. Styled by Edward Enninful. Hair by Orlando Pita for Orlando Pita Play; makeup by Peter Philips for Dior. Manicures by Michelle Saunders for Essie at Forward Artists. Set design by Piers Hanmer.
If the title of The Alienist, Dakota Fanning's first TV series since the early 2000s, has you thinking extraterrestrials, don't get the wrong idea: the show actually takes place much closer to ground, in 19th-century New York, at a time when a serial killer targeting young male prostitutes is running rampant. (Clearly, creator and executive producer Cary Fukunaga is taking some sort of nod from another upcoming project of his, the killer clown thriller It, while also recalling some themes from his last TV project True Detective.)
And, as the trailer for the TNT show released on Wednesday states, the 19th century was also a time when "the mentally ill were though to be alienated from their own nature," and those who "studied" them were known as "alienists"; in this case, the so-called alienist in question is a clinical psychologist played by Daniel Brühl, whom you may recognize from Inglorious Basterds, and who does his best to secretly investigate the string of murders—with a little help from Fanning.
The actress, who plays a determined police secretary, first shows up in a high-necked gown complete with a brooch and puff shoulders towering almost up past her neck. That primness soon gives way to something much hardier: soon, she's digging up hidden files and explicit photos detailing the murders and assaults, even as Dr. Laszlo Kreizler's righthand man, a newspaper illustrator named John Moore, played by Luke Evans, does his best to squeeze in a little flirting.
TNT has yet to announce a release date for the event series, but judging from its inspiration, the bestselling 1994 crime novel of the same title by Caleb Carr, things will no doubt keep getting brutal from there—something that'll also no doubt be welcome for Fanning. As she recently told W, the 23-year-old actress, who is both starring in and producing Kirsten Dunst's adaptation of Sylvia Plath's The Bell Jar, has a bit of taste for darkness: "There's a sequence in the movie when my character is at her lowest and I couldn't wait to do those scenes," she said of playing Merry in American Pastoral, a crazed cult member who's wary of bathing and wont to wear masks made of pantyhose.
Still, the role is undeniably a world away from Fanning's last steady appearance on a TV show. That would be back in 2002, on Taken, a miniseries produced by Steven Spielberg about actual aliens, who, unlike the mysterious killer at the center of The Alienist, are much less about murder and more into reproduction: the birth of Fanning's character, a human-alien named Allie Keys, is in fact the culmination of their terrestrial takeover.
Related: Dakota Fanning's Style Evolution from Young Starlet to Fashion Darling
Dakota Fanning Had Her First Kiss While Playing a Young Reese Witherspoon: