The Art of Hermès Exhibition in London Puts Birkin Bags Next to Warhol Paintings
Kelly and Birkin bags sit alongside works by Christo, Yayoi Kusama, and Pierre Soulages—exploring the visual relationship between high fashion and art.
---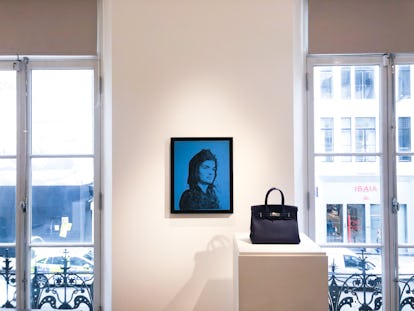 Installation view of The Art of Hermes at Omer Tiroche Gallery. Courtesy of Omer Tiroche Gallery.
We've seen our fair share of Hermès bags as high art—whether it was George Condo's painting on a Birkin bag that Kanye West gave Kim Kardashian for Christmas in 2013, Birkin stone replica by Barbara Ségal owned by Rihanna, or even Paris Hilton's pink Birkin bag, covered in Swarovski crystals. Now, an exhibition opening this week in London pairs up Hermès bags with artworks to draw a parallel between art and luxury handicraft.
The Art of Hermès, opening October 14 at the Omer Tiroche Gallery in Mayfair, showcases 10 luxury handbags—namely, Birkin and Kelly Hermès bags—alongside 10 artworks by world-renowned artists including Andy Warhol, Christo, and Yayoi Kusama. The bags themselves aren't painted, nor changed in any way to reflect the artists—showing them alongside modern artworks from French abstract painter Pierre Soulages and Italian avant-garde modernist Lucio Fontana links exclusive accessories to influential artworks. The show aims to explore the relationship between high fashion and art and, in a way, compares Hermès's most coveted pieces to works of art.
Tiroche, the exhibition's curator and gallerist, explained that each artwork is paired up with a bag, prompting a conversation with art history, as each Hermès bag on view matches the artworks, be it in style, tone, color or texture.
He began planning this exhibition this summer, making phone calls to get the bags on loan from women who have exclusive collections. "One woman said she doesn't use this bag during the week, but on the weekend she does," Tiroche said. "So, every Friday afternoon, I have to drop the bag off at her house, then on Monday morning I have to pick it back up for the exhibition." (And while the artworks are for sale, the purses are not).
As the world's most in-demand luxury handbag, Kelly and Birkin bags could easily be considered high art because of their craftsmanship—but also, due to their exclusive access. "The number of hours that goes into the craftsmanship, the decades of experience before a craftsman can make a bag is incredible, about 30 years," said Tiroche. "There are waiting lists, buyers are told 'no.'"
Among the artworks featured in the exhibition, Fontana, who saw his rise in the post-war Europe, shows Concetto Spaziale (meaning "Spatial Concept" in English), an oil on canvas artwork from 1962. It's shown alongside a "So Black Kelly" 35 handbag, handcrafted in matte black alligator.
Another work on view is Piero Manzoni's multi-media Achrome from 1958-59, which is made of a grid-like pattern of cotton squares coated in kaolin. It draws a parallel to the white Togo leather in the Hermès bag, "Kelly Blanc."
Aquatic blues are highlighted in an artwork by Christo, who worked with his partner Jeanne-Claude during their lifetime of mounting epic public art projects. A drawing from their 1989 piece, The Umbrellas, where the duo installed over 3,000 umbrellas across California and Japan in 1991, is shown alongside an alligator skin "Kelly Cut" bag in electric blue.
While the Hermès brand has a long-standing relationship to celebrities, many of who have inspired bags of their own, it goes back to the Kelly bag being named after Princess Grace Kelly of Monaco after she fell in love with a Hermès bag while filming Alfred Hitchcock's 1955 film, To Catch a Thief. And of course, the Birkin bag was designed exclusively for British Blow-Up star Jane Birkin.
"They were celebrities and icons, just like Jackie O was," said Tiroche. "That's why I wanted to show a piece by Andy Warhol, as Jackie was muse to him, and to the world, even."
Although Tiroche contends that mass-produced fashion items are not considered one-of-one artworks, (even with mass-produced artworks by Jeff Koons and Damien Hirst on the market today), it's a debatable argument. And he admits that the fashion world's relationship with art is practically intertwined, with designers constantly turning to the art world for inspiration.
"Look at the artist collabs as of late; Louis Vuitton traditionally has Takashi Murakami or Yayoi Kusama working with them, or Christian Dior and Kaws," Tiroche added. "They're very much linked."
The Art of Hermès runs until December 18, 2020.
Related: Kim Kardashian Proves That Birkin Bags Are Not Single Use