The Balenciaga Beach Bag Instagram Is Obsessed With
The colorful Bazar shopper from designer Demna Gvasalia's first collection is catching everyone's attention this summer.
---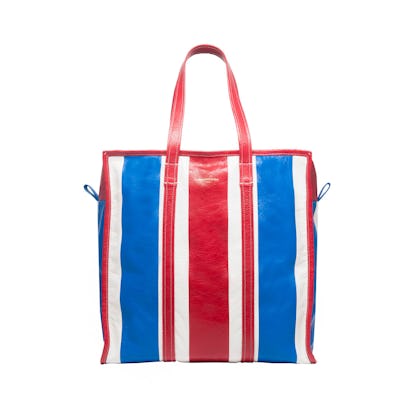 The new Balenciaga Bazar beach bag is so large that it could almost be worn as a garment in its own right. Made of leather with colorful stripes, it looks and feels like the luxury version of the plasticky bags found at a 99 cent store. This item, however, retails for $1,645.
It is fitting that this bag in particular comes from the Balenciaga Fall 2016 collection, which was Vetements designer Demna Gvasalia's first for the brand. It is both luxurious and functional; Margiela-like in its surreal size, (Gvasalia previously worked for the brand), and yet still in parlance with the Spanish seaside roots of Cristóbal Balenciaga himself. It is the beach bag for the modern woman, who might want to bring her whole life with her on her travels.
For Gvasalia, how women wear his clothes and accessories is of the utmost importance. He told W magazine back in March: "Sometimes, I hear designers from older generations saying, 'Oh, fashion needs to make women dream,' " he says. "I feel that this is really difficult today. I think it's dated. Fashion shouldn't make you dream in 2016. It should just be there, for us to wear."
Writer Alexander Fury added, "What might be truly revolutionary about Gvasalia is that he is not just determined to redefine high fashion but also to unabashedly get it on people's backs."
With Gvasalia's debut collection for Balenciaga just now hitting stores, the Bazar bag in particular is speaking to men and women alike. And just because it's for fall 2016, doesn't mean you can't bring it to the beach right now. Or if you're playing by Gvasalia's rules, there's no reason not to wear it with a puffy parka, too. See how It girls, bloggers, and Instagram influencers are styling the must-have accessory, below.
Watch W's most popular videos here: