Matthew McConaughey Basically Plays Himself in New Movie The Beach Bum
From the mind of Harmony Korine.
---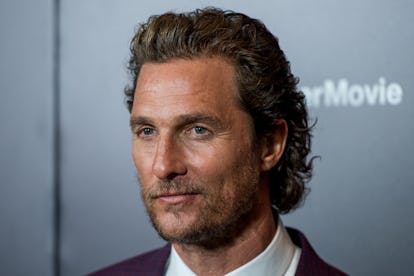 Roy Rochlin/Getty Images
You'd be forgiven for thinking that Harmony Korine's new movie The Beach Bum is a documentary. After all, it stars Matthew McConaughey as a wandering stoner who proclaims in the new trailer that he wants to "suck the nectar" out of life.
But believe it or not, The Beach Bum is just the latest work of delirious fiction from the man who brought us Spring Breakers. After the way that movie managed to capture the cultural imagination (not to mention all the money it made), Korine went from cult-favorite indie weirdo to one of Hollywood's hottest commodities in a flash.
That explains the A-list cast he wrangled for his latest effort, which looks just as outrageous as his last outing. In it, McConaughey plays Moondog, a drug-addled poet who spends his time trying to buy acid at convenience stores. The trailer also shows him smoking weed in a pool and playing the bongos with reckless abandon. In case you're wondering, yes, he did return to the state of Florida for this film as well. Miami and the Florida Keys to be exact.
Joining McConaughey on his hedonistic misadventures are Isla Fisher, Zac Efron, Martin Lawrence, and Snoop Dogg. Does that mean McConaughey and Snoop did some smoking together during takes? Well, obviously. "We get to the scene, it's a six-minute scene, we're passing [the weed] back and forth," McConaughey told Jimmy Kimmel of his time with Snoop. "All of a sudden at the end he goes, 'Yo, Moondog'—that's my character—he goes, 'That ain't prop weed. That's Snoop Weed.' I went, 'Oh, you son of a gun.' Now the next nine hours were a lot of fun, but I don't believe we used one word in the English language."
Hopefully we have as much fun watching The Beach Bum as McConaughey did making it. We'll find out when it hits theaters on March 22, 2019. Watch the trailer, below.