Nicole Kidman and Elle Fanning Get Dark in Trailer for Sofia Coppola's Southern Gothic The Beguiled
Nicole Kidman, Elle Fanning and Kirsten Dunst put on some southern accents and creepy looks for Sofia Coppola's latest.
---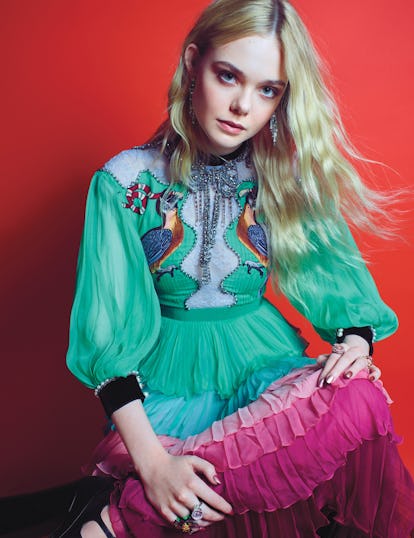 Photographs by Mario Sorrenti, Styled by Edward Enninful.
There's an undercurrent of isolation and longing in many of Sofia Coppola's films: isolation in a Japanese city, isolation in the French royal court, isolation in a nondescript suburb. In her latest project, The Beguiled, Nicole Kidman, Elle Fanning and Kirsten Dunst find their characters isolated in a Civil War-era all-girls school deep in the south.
The film is a remake of a 1971 cult classic originally starring (but not directed by) Clint Eastwood. The faculty and students of the desolate all-girls school come across a wounded Union shoulder and decided to take him in and nurse him back to health. Things turn dramatic when the headmistress (played by Kidman), a young teacher (Dunst) and one of the older students (Fanning) all starts to develop feelings for their male guest, Colin Farrell.
Rather than turn into some predictable girl-on-girl fighting over a man, things take a far darker and far more unexpected turn.
Farrell screaming "What have you done to me? You vengeful bitches!" at the end of the trailer should give you a clue of where things headed. If it's anything like the original film you should expect at least one pivotal scene involving an amputation.
Both Fanning and Dunst are veterans of Coppola's previous films, though they had never appeared in one together. The pair seemed to become fast friends, at their on-set Instagram snaps seem to suggest. Nicole Kidman and Farrell are newcomers to Coppola films, but seem to fit right in.
The film will premiere in American cinemas in June, about four years after Coppola's last effort The Bling Ring. But if you have a need to see a Fanning in a dark and artsy period piece before then, you can always check out Dakota in the gritty Brimstone.
Watch Elle Fanning talk about how she cries over her sister's old talk show appearances: