The Best Shows on TV This Fall Are the Comedies
Our post-Emmys guide to the (mostly) new shows you can't afford to miss.
---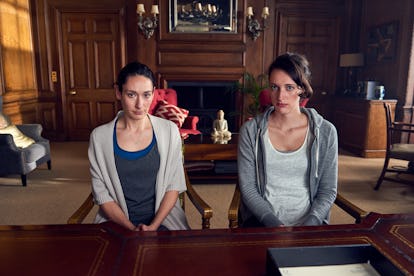 Amazon's "Fleabag."
If the sheer volume of quality television currently available to streamers and IRL television-watchers were not already positively paralyzing, here comes the fall slate of new and returning shows bound to up your anxiety. While there are big prestige projects that aim to explore the texture of modern life and digital identity — J.J. Abrams's enormous, expensive "Westworld" on HBO, the acclaimed "Black Mirror" on Netflix — what we're really excited about are the comedies. With buzzed-about new shows from Donald Glover, Issa Rae, Tig Notaro, and the British playwright Phoebe Waller-Bridge, there is now more heartache, ecstasy, and drama in the half-hour than ever before, and perhaps even more so than their bigger siblings. Plus, of course, there are laughs. Here are 10 comedies not to be missed.
"Fleabag" on Amazon The limited series explores the trials and tribulations of a messy "modern woman" trying to cope with the complexities of pleasure and redemption. British misery porn at its very funniest. The show premiered September 16.
"Mascots" on Netflix: The geniuses behind Best in Show and For Your Consideration return with a mockumentary about, you guessed it, sports mascots. The sight of Parker Posey popping and locking might be worth the watch by itself. The Netflix Original Film hits the web on October 13th.
"Atlanta" on FX: Donald Glover, erstwhile musician and star of the fan favorite oddball series Community, has crafted a coming-of-age story about up-and-comers struggling to make it in the cutthroat ATL rap scene. Expect laughs and pathos. "Atlanta" debuted on September 6.
"Insecure" on HBO: Comedian Issa Rae makes art about navigating work and life as an "awkward" black woman. Given her immense talent and hordes of fans, this is sure to be a winner. The series will first air on October 9.
"Easy" on Netflix: Joe Swanberg, the director of Drinking Buddies, is at his best when he's taking intimate looks at slackers wading their way haplessly through sex, intimacy, and love. Can't wait. The first season comes out September 22.
"You're the Worst" Season 3 on FX: A touching portrait of two cynics whose hearts aren't as black as they would lead you to believe as they fight their way, kicking and screaming, through adulthood and true love (if that even exists). The show came back on August 31.
"Transparent" Season 3 on Amazon: Jill Soloway's wayward, creative tribe of L.A. Jews roll on. Check in to see how the Pfeffermans continue to evolve and devolve, beginning on September 23.
"Better Things" on FX: Created by and starring Pamela Adlon, the recurring star of FX's "Louie," as a divorced actress raising three daughters in LA. If her sensibility is any indication, the show will grow to be dark and hilarious. Better Things debuted on September 8.
"High Maintenance" on HBO: The longtime cult favorite web series moves to a bigger stage at HBO, but this minimal, intimate dramedy will likely stay weird. It's less interested in weed than the wildly disparate lives the intentionally milquetoast protagonist encounters as he tokes up with artists, PR girls, widows, lawyers, loners, etc. The series made its HBO debut on September 16.
"One Mississippi" on Amazon: The comedian Tig Notaro has never been afraid to confront the horrible in her comedy, and this new show digs deep into that inclination; the show follows the heroine as she moves home to deal with the death of her mother. Notaro's creation came out on September 9.