The Big Winners of the Election (Besides Joe and Kamala)
From Stacey Abrams to drugs, here are the big winners from this year's election that weren't on the top of the ticket.
---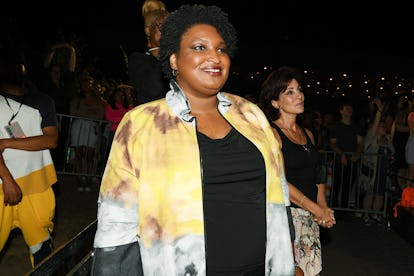 Just about everyone but the inhabitant of the Oval Office has accepted Joe Biden's win in last week's election, but the mixed results for congressional races also delivered a mixed message. Still, even when electoral results don't manifest in the clearest of mandates, they have a way of minting new power players on the national stage and defining turning points in politics as usual that could resonate for decades. In other words, sometimes the President-elect himself isn't even the biggest winner on election night.
Stacey Abrams
Stacey Abrams's run for governor of Georgia ultimately wasn't successful, but she used her experience and profile to commit to fighting for voters' rights both in the state and nationwide. In addition, she built up an infrastructure in Georgia that may help Joe Biden claim an historic outright victory there.
While it may not make for the juiciest headlines, one of the stories emerging from democrats not doing quite as well in the House and Senate races seems to be a lack of communication and support between the national party and the state and local iterations. Surely, Abrams's model ought to be studied.
As for the woman herself, well, there's still the matter of the two Senate runoffs in Georgia. But don't be surprised if she's considered for a post in the Biden administration.
The Squad
No one's going to call them "AOC plus 3" now. Alexandria Ocasio-Cortez, Rashida Tlaib, Ilhan Omar and Ayanna Pressley all easily win re-election (despite some totally irrational misspent money supporting some of their opponents in both the primaries and general elections). In the upcoming 117th United States Congress, their ranks are sure to grow among similarly inclined Democrats like Missouri's Cori Bush, New York's Mondaire Jones, Jamaal Bowman and Ritchie Torres, and Illinois's Marie Newman. There's already some intra-party squabbling following last week's mixed results, but it's undeniable that the model established with the Squad certainly seems to resonate with voters in urban areas across the country.
Steve Kornacki
Friendship with Nate Silver ended. Now Steve Kornacki is our new best friend.
The MSNBC host and NBC News political correspondent amazed viewers with both his commitment to keeping viewers up to date on the vote as it came in, not only on Tuesday night but through the week, and his calmness while doing so. Finally, we all seemed to realize that polls don't matter nearly as much as the actual results.
Kornacki emerged as something of an internet boyfriend following his performance, with a fawning press and even The Strategist tracking down where to buy his election night khakis (The Gap, of course).
Pete Buttigieg
To seasoned political watchers, Pete Buttigieg's primary campaign seemed less about actually winning the nomination this year and more about establishing the former South Bend mayor as a national figure with a bright future (it happens—Joe Biden ran for president twice before this year). By all accounts, that seems to have worked, and Buttigieg cemented his status as a Biden ally by his effective advocacy of the campaign on, of all places, Fox News.
While we could imagine a run for Senate or governor in his native Indiana in the future, by all accounts Buttigieg is a shoe-in for one role or another in the Biden cabinet. He could make history as both the first openly LGBTQ+ cabinet secretary, and first openly LGBTQ+ appointed to a cabinet-level position and approved by congress.
Drugs
After four long years of division, Americans did manage to come together last week and say, "Hmm….drugs? Let's rethink that." Arizona, Montana, New Jersey, and South Dakota, an unlikely coterie of states, all voted to legalize recreational marijuana, while Mississippi also voted to legalize medical marijuana. Washington, D.C. decriminalized psychedelic mushrooms while Oregon decriminalized (but not legalized) harder drugs (an approach that has shown to work throughout the world by putting the emphasis on treating addiction as opposed to putting people in jail). It's a mixed bag of results, but one that shows that America has puts its "War on Drugs" mentality behind it.
The biggest loser in our eyes? New York State. Officials have recently considered legalized marijuana but so far haven't moved on the issue. Until then, the PATH train is about to be lit. Literally.
A $15 Minimum Wage
Florida remains one of the most divided swing states in the country, but on Tuesday, voters passed a state constitutional amendment that would raise the minimum wage in the state to $15 by 2026 with 60 percent of the vote. While similar measures have taken hold in bluer parts of the country, the win in Florida is sure to send a message that the move, once considered too radical for even mainstream democratic party politics just four years ago, is now widely popular.
Women in the White House
Kamala Harris is now the first woman on a successful presidential ticket, and yet, somehow, the historic moments seemed both long overdue and—at least, on the list of priorities voters took with them to the ballot box—sort of beside the point. Still, as Harris herself has often said, she may be the first, but she won't be the last.
Aside from Harris's win, it's possible that Biden may break Barack Obama's record for most women appointed to his cabinet in one term on Day One. Obama appointed eight women as cabinet secretaries throughout his two terms, but only four in his first term. Look for Biden to appoint more, perhaps significantly so.