Inside The Blond, New York Scions' Favorite New Playground
Aby Rosen's new club at 11 Howard is quickly becoming a go-to for everyone from Tyga and Bob Colacello to the Brants and Schnabels. But can you have as much at The Blond?
---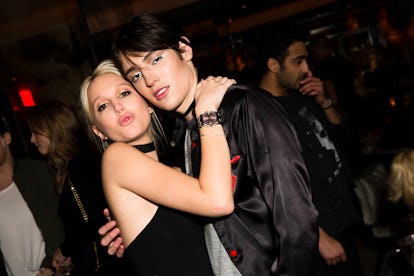 Within hotelier Aby Rosen's area of expertise is real estate, art collecting, and last but not least: throwing a good party. His legendary bash at the W Hotel during Art Basel Miami Beach is the hottest ticket in town. And dinner parties at his own New York home may be smaller in size but are no less well attended (everyone from Barbara Walters to Alex Rodriguez are frequent guests, according to the New York Times). His 53rd birthday party at his Paramount Hotel near Times Square was a veritable who's who of New York, attended by Larry Gagosian, Owen Wilson, Gigi Mortimer and Nicky Hilton.
So it's no surprise that the The Blond, inside Rosen's newly opened 11 Howard hotel, has played host to dozens of parties since opening in March. Opening weekend alone saw three shindigs, the first on Thursday night, with his own friends and family in attendance—Tom Sachs, Rachel Feinstein, Wendi Murdoch, i.e. the "older, glamorous New York power-players" according to the public relations team—the second on Friday with his son, Charlie, co-hosting a party with models Martha Hunt and Jasmine Tookes; then Saturday brought a fête from hotspot gatekeepers Angelo Bianchi and Julio Montero.
Things haven't really slowed down since then, and the parties are as frequent as they are different. His wife, Samantha Boardman celebrated a handbag collaboration with Sarah Beydoun there, and Jimmy Choo hosted a dinner. Bob Colacello threw his birthday party there, with Calvin Klein, Rudy Giuliani, and Mary-Kate Olsen in attendance. The Film Society's Andrew Saffir selected it as the after party venue following a screening of Miles Ahead, with Don Cheadle and Ewan McGregor. Most recently, Tyga took over in honor of his collaboration with Marcelo Burlon for Saks Fifth Avenue.
Rosen's pull is stronger than the space itself, which is all velvet banquettes, smoky mirrors and blond wood, designed by Anda Andrei Design and Space Copenhagen. Of course, this provides a clean backdrop for—what else!—the art. Works from Dan Attoe, Nobuyoshi Araki, Charming Baker, and Jacco Olivier line the walls, though if you're coming to peruse them, you'd be better off during the day, when you can also sample the food by Stephen Starr and Chef Daniel Rose.
At night, downtown DJs including Mike Nouveau and Franco V play thumping dance and hip hop music, and the dance floor becomes the main attraction.
Calling Card Neon artwork from Dan Attoe that reads "We are just complicated animals" on the ceiling as guests ascend the staircase.
The Door There's no list when it's not closed for a private event–but that's a rarity.
Tribes Friends and family of the Rosens, other New York scions (the Brants, the Schnabels), the movie screening crowd, models and their flunkies.
VIPs Tyga, Hailey Baldwin, Martha Hunt, Prabal Gurung, Rudy Giuliani, Calvin Klein.
Music A rotating cast of DJs including Mike Nouveau and Franco V playing dance and hip hop tunes.
Drinks $18
The Basics 11 Howard Street, New York, New York 10013. 212-634-1211. Monday – Saturday, 5 p.m. – 4 a.m.
Watch W's most popular videos here:
Photos: Inside The Blond, New York Scions' Favorite New Playground
Inside The Blond. Photo by BFA.
Princess Olympia of Greece and Harry Brant at the Blonde. Photo by BFA.
Hailey Baldwin, RJ King. Photo by BFA.
Jordan Barrett. Photo by BFA.
Justin Hopwood, Tobias Sorensen. Photo by BFA.
Martha Hunt, Phillip Lim. Photo by BFA.
Chloe Wise, Matthew Morton. Photo by BFA.
Julio Montero, Charlie Rosen. Photo by BFA.
Michael Avedon. Photo by BFA.
Constance Jablonski. Photo by BFA.
Aby Rosen, Charlie Rosen. Photo by BFA.