Eat at Camille Becerra's Rockaway Beach Pop-Up, The Castle
The chef's unfussy summer pop-up is all about fresh, local ingredients and good vibes.
---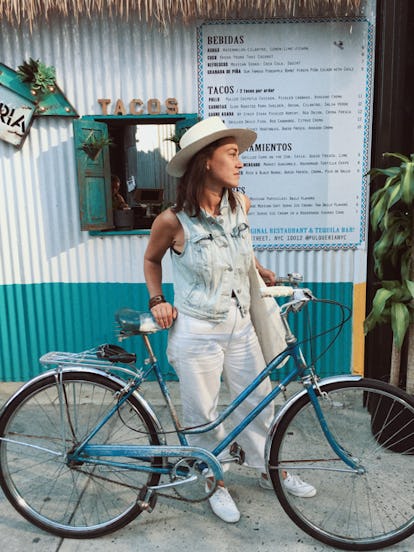 Courtesy of Camille Becerra
Chef Camille Becerra, formerly of Navy in Soho and more recently Andre Saraiva's Café Henrie, has decamped to the beach this summer for her latest pop-up restaurant The Castle. She's set up shop in the Rockaways (a favorite surf destination for New York City urbanites) through Labor Day weekend, offering a very casual menu highlighting fresh produce and fish. Think: chilled and crushed radishes with chili and sesame, for example, or smoked flounder tostada with herb mayo. The pop-up is a collaborative project with restaurateur David Selig (formerly of the ever-popular Rockaway Taco and Rice) and his new inn and wellness center, which is slated to open this fall.
If the sun and sand at Rockaway Beach aren't enough to get you on the A train, Becerra's delicious eats will make the trek well worth your time.
Calling Card The Castle is an unfussy venue, which perfectly complements what what Becerra does best with food—using super fresh, local ingredients with her own unique twist.
The Door No reservations needed. Just show up and pop in to taste Becerra's uber fresh, a la carte summer menu.
Tribes Foodies, editors, beachgoers, and Becerra's fashionable French friends.
Music Beats by the the women's DJ collective, Liason Femme.
Menu Dishes range from $8 (peach clafoutis with vanilla and cream, for example) to around $16 for ceviche with cucumber, tomato, hominy, and toasted seeds. All produce comes from Edgemere Farm and all the fresh fish is caught each morning by their fisherman Frankie. For the wines, Becerra has partnered with Franciacorta on some excellent Italian sparklers.
The Scoop 403 Beach 117th Street (corner of Newport Avenue), Rockaway Beach, New York. camillebecerra.com/#/thecastle/. Open Saturday and Sunday for lunch from 12 to 2 p.m. and dinner from 5 to 9 p.m., through Labor Day weekend (including Monday). Cash and Venmo only.
Watch W's most popular videos here: