The Child Stars of Netflix Are Having a Better Summer Than You
Between snuggling up to Bieber and letting loose in Spain, the young newcomers from "Stranger Things" and "The Get Down" are a long way off from summer camp.
---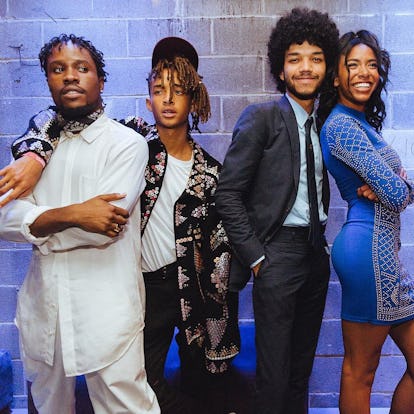 Tweens and teens have become the breakout stars of this summer, thanks to Netflix's hit series "The Get Down" and "Stranger Things." And while they're maintaining a semblance of normalcy by hanging out and posting on Instagram, their feeds aren't exactly shots of family vacations and summer camp. Now that "The Get Down," Baz Luhrmann's slashy series tracing the roots of hip-hop in the Bronx, has finally gotten its long-awaited release, stars like Shameik Moore are free to hang with pals like A$AP Rocky, and Jaden Smith is seizing his chance to get close to the Biebs.
Meanwhile, the stars of "Stranger Things," about the supernatural disappearance of a boy in '80s Indiana, are definitely keeping things as strange as the show. Thirteen-year old Gaten Matarazzo, who plays Dustin, has been pulling out his dance moves, whereas 12-year-old Millie Bobby Brown, who plays Eleven, is living it up at Google and rocking Dior. Meanwhile, over in Spain, Charlie Heaton, who plays Jonathan Byers, is lounging in his PJs and letting loose on a truck. In any case, it's a great time to be a child actor. Get a taste of the childhood you didn't have, here.
Millie Bobby Brown: Eleven from "Stranger Things
Jaden Smith: Dizzee from "The Get Down"
Charlie Heaton: Jonathan Byers of "Stranger Things"
Shameik Moore: Shaolin from "The Get Down"
Justice Smith: Ezekiel from "The Get Down"
Joe Keery: Steve Harrington from "Stranger Things"
Skylan Brooks and Tremaine Browne Jr.: Ra-Ra and Boo-Boo from "The Get Down"
Gaten Matarazzo: Dustin from "Stranger Things"
Caleb McLaughlin: Lucas from "Stranger Things"
Watch W's most popular videos here: