The Choker Trend Is Making Margaret Zhang Anxious
The multi-hyphenate (photographer, stylist, writer, creative director and consultant) and adorable Australian It girl shares her Fashion Month diary.
---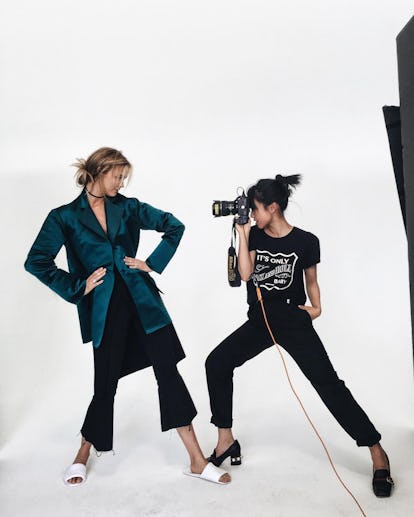 At only 23-years-old, the stylish multi-hyphenate Margaret Zhang (photographer, stylist, writer, creative director and consultant) has fashion month down to a science. Hailing from Sydney, Australia, but currently based in New York City, she manages to be both incredibly busy and effortlessly stylish — the magic combination for any successful street style star.
During New York Fashion Week this season, she not only hopped around to big tent shows but also made time for up-and-coming designers like Etienne Deroeux. Plus, she directed and styled an exclusive video for Wes Gordon. She then jetted off to London with her GPS-synced suitcase, where she visited the Tate Modern and saw Christopher Kane's Crocs up close. Now, Zhang is in Milan, where she feels "culturally obliged" to make a stop at the Duomo, but no matter where she is in the world, it's Asian noodles that keep her going.
Three words that describe your style: Boy and/or assassin.
How many outfits (roughly) do you pack for fashion week? How much do you plan? Do you have a packing secret? In truth, I'm actually the worst at packing. Often it's a hurried midnight hour job and I turn up at my destination without any pants. Something I do swear by is packing mostly separates – that way I can mix and match and create a number of different looks from the same set of clothes. Stuffing bags and shoes with socks and underwear is also a space-saver, and helps everything keep shape.
What's your fashion week suitcase? I have a Rimowa and a Raden – the later of which has a GPS tracker, which is great ammunition against unhelpful airport helplines when European airlines inevitably lose my bag between Milan and Paris.
Favorite store in Sydney, Australia: ParlourX has a brilliant curation of up-and-coming designers and established luxury. It's a beautiful converted church on Oxford Street.
Places you always make time to stop when you're traveling for fashion week: In London, I always try to stop by the Tate Modern and the British Museum, even if it's only to see one exhibit. In an ideal world, I'd see a play, but there's not often the time. In Milan, you're culturally obliged to sob at the foot of the Duomo every chance you get. In Paris, the show venues are so exceptionally scouted that you get a pretty comprehensive historical tour of the city season after season with slight variations anyway.
Night-out look: I generally keep the same look, but add a pair of mis-matched earrings, an angrier heel, and a darker lip.
Preferred footwear: Heeled boots.
Beauty secrets (makeup, hair products, bathroom rituals, etc.): Lucas' Paw Paw ointment is an Australian product I love. It comes in a red tube and is great for chapped lips, dry skin, and even the occasional highlighter or eyelid gloss when you're in need. I also use coconut oil for everything, and try to do a mask once a week while I'm up late working. (To try to make it look like I wasn't up late working!)
Best recent discovery: Green clay masks.
Style pet peeve: The plague-status of black ribbon chokers is giving me so much anxiety.
Last purchase: Vetements boots.
Lusting after: A mustard quilted velvet settee.
What's always in your bag during fashion week: As a photographer, my bag gets filled pretty quickly with my camera, a spare lens, perhaps a second film camera, credit cards, and phone. There's usually a few stray earrings and irrelevant currency floating around in there, too.
Something you would never wear: A mini skirt.
Most prized possessions in your closet: I have this long (and in hindsight, super ugly), pleated teal skirt that was the first ever piece of clothing I bought myself. I saved up all of $30 to by it from the local weekend market near where I grew up.
Something you're looking forward to wearing this fall: Coats of epic man proportions.
Your stylist motto to live by: How many garments can I reasonably fit on this body in this weather?
Favorite Spring 2017 shows in New York: Proenza Schouler's knitwear innovation always demands closer inspection.
Favorite Spring 2017 shows in London: I loved JW Anderson's seasonless and cross-cultural ease, and that Christopher Kane will never make Crocs fetch, but his efforts were valiant and his line-drawing approach to seams and embellishment was truly refreshing.
Shows you're looking forward to seeing in Paris? I'm really interested to see what Maria Grazia comes up with at Dior as a solo act. In the face of streetwear saturation and uncertainty in contemporary luxury, I'm also keen to see how Demna Gvasalia directs his two posts.
Emerging designers you're excited about? Etienne Deroeux and Andrea Jiapei Li.
Fashion month survival tips: Probably the same as general life survival tips – drink lots of water, eat food that makes you feel good (I stick to Asian noodle broths with heaps of greens), and I'd say get some sleep but between shows, meetings, and ongoing work projects, although I never do.
What you're looking forward to doing once fashion month is over: It doesn't really stop — only the shows stop — so I'll be continuing on a few different projects. My first art book commission goes live to buy online pretty soon after Paris wraps up, then I am working on a film project over most of November and December between Sydney and New York.