The Collective Kennebunks
When the concrete walkways of the urban grid begin to feel a little too much like the charred confines of a brick oven, there's almost nothing that can feel as luxurious and welcome as a seaside escape. Just a scant four hours and change from the electric din of Manhattan and an hour and a half drive from Boston, the coastal Maine refuges of Kennebunkport and Kennebunk (collectively referred to as "the Kennebunks") offer a slice of heaven a little closer than you might think.
---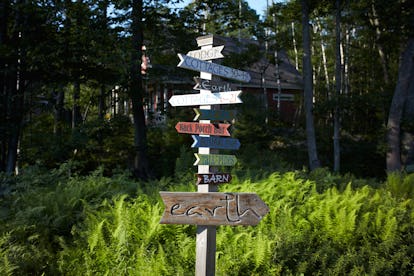 Take in the dramatic rocks and crashing waves of Maine's coastline by sea with Kylie's Chance Scenic Lobster Tour. If the whales and seals aren't out to play, you might catch a rare glimpse of the former president George W. Bush in his ocean-facing estate on Walkers Point. 4 Western Avenue (Route 9 Lower Village), Kennebunk, Maine, 207.967.5507 Daytrip Society offers designer treats "from away"–as Maine natives say–and from closer to home. Pendleton blankets, Fjallraven rucksacks, and supple Baggu leather goods are smartly stowed next to Maine originals like Swan's Island blankets–hand-loomed in Northport and baby bunny-soft–and Sea Bags vintage totes made from recycled sails from Portland's working waterfront. 4 Dock Square, Kennebunkport, Maine, 207.967.4440 Minka takes a resolute stance on the locavore trend: almost everything in the boutique designed by co-owners Michelle Rose and Christopher Larochelle and made in Maine. Browse the selection of locally sourced, Italian-tanned leather goods or opt for one of Rose's rustic yet modern reclaimed barnwood planters or sweet, ceramic "birchware" mugs. 5 Union Street, Kennebunkport, Maine, 207.204.1014
Just over the river in Kennebunk, Snug Harbor Farm's gorgeous collection of elegant housewares, books, plants and, yes, animals is housed in a sprawling maze of cottages and outdoor spaces, giving the impression you've stumbled into a fair tale in medias res. Here, you can even purchase a live lobster for a souvenir or more, ahem, wicked intentions. Route 9 Lower Village, Kennebunk Maine, 207.967.2414
For an afternoon treat, recently opened Rococo Artisan Ice Cream offers succulent and surprising flavors like goat cheese blackberry Chambord, silky olive oil ice cream studded with crunchy pepitas and laden with rosemary caramel, or Persian Love Cake–rosewater and pistachio flavored ice cream with lemon zest, cardamom, and saffron cake morsels. 6 Spring Street, Kennebunkport, Maine, 207.251.6866
Spend your day luxuriating on one of Maine's only white sand beaches, Goose Rocks Beach. After the daring few have taken a dip in the chilly ocean waters, retreat to one of the plush yellow rockers on the porch of The Tides Beach Club and enjoy an impeccably-made cocktail and briny oysters from nearby North Haven and Pemaquid as the sun makes its descent. 254 Kings Highway, Goose Rocks Beach, Kennebunkport, ME, 855.632.3224
No trip to Maine is complete without a lobster dinner and Nunan's Lobster Hut in neighboring Cape Porpoise does it best: freshly caught from the nearby icy waters, boiled to perfection and accompanied by generous dollops of melted butter. Blueberry cobbler à la mode optional. 9 Mills Road, Kennebunkport, Maine, 207.967.4362 For the sporty set, the brand new The Lodge on the Cove is a dream. This retro-chic hotel offers guests amenities like ping pong tables, bike rentals, beach passes, yoga mats, poolside dining, and even highbush blueberries ripe for the picking. 29 S. Main Street, Kennebunkport, ME 800.879.5778
For the ultimate sylvan fantasy, make your night's stay at Hidden Pond, a compound of 35 private bungalows nestled in a 60-acre birch tree forest. A breakfast basket is delivered daily to each cottage, all appointed with both indoor and outdoor showers, Frette bed linens and a fireplace to ward off the inevitable evening chill. A nightly communal bonfire offers guests a chance to stay cozy and social with an added nostalgic incentive: s'mores.
While at Hidden Pond, make a reservation for the on-site farm to table culinary haven Earth. Under the watchful eye of the James Beard Award-winning chef Ken Oringer, New England delicacies like Diver Scallops with Smoked Heirloom Carrots have never tasted better. Hidden Pond and Earth at 354 Goose Rocks Road, Kennebunkport, Maine, 207.967.6550
New England's understated elegance is in full bloom at the Relais & Chateaux's White Barn Inn. This picturesque hideaway is also home to an eponymous spa and five-star restaurant where Chef Jonathan Cartwright presents a nightly four-course prix fixe menu in two renovated 1820's barns. Be sure to check in to the hotel in time for the charming afternoon tea service. 37 Beach Avenue, Kennebunk Beach, Maine, 207 967 2321
Exploring Kennebunk and Kennebunkport, Maine