The Craft: Legacy Trailer: They're Still the Weirdos, Mister
The trailer for Zoe Lister-Jones's reboot of The Craft reveals how the new film is connected to the original 1996 camp classic.
---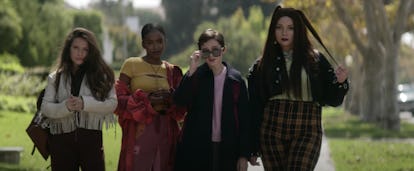 Image courtesy of Sony Pictures.
The announcement that Zoe Lister-Jones would write and direct a sequel to The Craft, peaked the interest of fans of the original 1996 cult classic along with a new generation of TikTok witches and their ilk looking for a touchstone movie of their own. Now, the first trailer for the film has arrived.
A Blumhouse and Red Wagon Entertainment co-production, The Craft: Legacy follows a new squad of teenage misfits. They band together to form a coven when a new girl (Cailee Spaeny) moves to town and meets three classmates (played by Gideon Adlon, Lovie Simone, and Zoey Luna) who aspire to put spells on the rude popular boys in their high school classrooms.
According to the trailer, the new girl arrives to town at the behest of her mother (Michelle Monaghan) who appears to have married a new man (David Duchovny) with three sons. She endures a litany of teenage humiliations including getting her period in the middle of the classroom and ridicule from boys, but eventually gets initiated into the coven after school by bathing in a milk bath. Over the course of the film, the girls host séances, refer to an old book of spells, and learn how to control their burgeoning powers as witches.
The Craft: Legacy appears to be a fresh spin on the original, with references to the first film, from an appearance from The Craft's Fairuza Balk in the form of a found polaroid to the iconic "We are the weirdos, mister" line that Balk (uttered by Spaeny in the sequel).
Rather than opening up in theaters, The Craft: Legacy will be available on demand for 48 hour rentals on October 28—just in time to freshen up on the original film starring Balk, Rachel True, Neve Campbell, and Robin Tunney; and take some notes on how to throw your own séance at home before Halloween.