Elizabeth Debicki Will Do Princess Diana's Style Justice on The Crown
On seasons five and six of The Crown, Elizabeth Debicki will step into Princess Diana's most stylish years.
---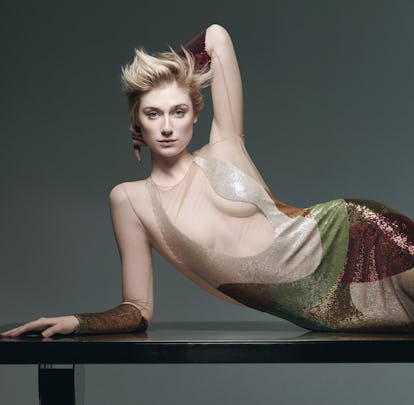 Photographer: Mark Segal Stylist: Sally Lyndley
Face it—seeing Helena Bonham Carter as a middle-aged wild child Princess Margaret, and recent Oscar-winner Olivia Colman assuming the role of yet another royal was all good fun, but you know that getting a glimpse at Princess Diana is the reason you watched the third season of The Crown.
You also have to admit that after series creator Peter Morgan insisted that The Crown would end at season five only to finally confirm that the series would get six full seasons, you sighed a huge sigh of relief knowing that there will be two solid seasons of adult Princess Diana drama.
Now, a young Diana Spencer (played by Emma Corrin) was introduced near the end of the third season and will go on to appear in season four, but it has now been confirmed that The People's Princess will be played on seasons five and six of The Crown by Elizabeth Debicki. "Princess Diana's spirit, her words and her actions live in the hearts of so many. It is my true privilege and honour to be joining this masterful seies, which has had me absolutely hooked from episode one," Debicki said.
Even though the actress is Australian and not British, and much taller than the Princess was in real life, the resemblance between Debicki and Diana is striking enough. We'll be excited to see Debicki as Diana in her most iconic looks: her luxury athleisure, the lawn sweater (which was recently reinterpreted by Harry Styles), and just about anything with shoulder pads.
And finally, Debicki will hopefully get to shine in the scene that you know you've been waiting for—the episode of The Crown where Princess Diana wears her iconic black "revenge dress" to a party at the Serpentine Gallery in 1994, or, as Rihanna once called it, the "Diana Bad Bitch moment."
Debicki is just the latest actress to take on the role of Lady Di—it was announced earlier this year that Kristen Stewart will portray her on screen in Pablo Larraín's Spencer biopic, a film that will follow the three days in which Princess Diana realized she did not want to stick with Prince Charles and assume the role of Queen. On The Crown, Debicki will likely play out the moment Diana realized she wanted a divorce, in addition to the years after, when she leaned into more global humanitarian work, like visiting an Angolan minefield and opening the United Kingdom's first HIV/AIDS unit at Middlesex Hospital in London. And even though Morgan insists the sixth and final season of The Crown won't necessarily bring us closer to present day (or include any Meghan Markle drama), fingers crossed we'll at least get some casting news of a young Wills and Harry fairly soon.
Related: Elizabeth Debicki Recovered from Her Widows Audition With Macaroons and Tea