The Crown's First Season 2 Trailer Reveals New Royal Trials and Tribulations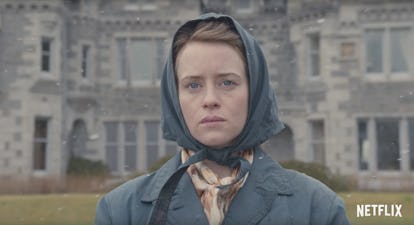 Netflix/YouTube
Those hoping to pleasantly pick things up with Queen Elizabeth II and co. in the second season of The Crown should maybe make like the Queen herself and have some midday cocktails to soothe their nerves. Buckingham Palace, frankly, has never been more ripe for drama.
Netflix has dropped the first trailer for The Crown's highly anticipated second season, and Elizabeth II (played by the lovely Claire Foy) is facing the aftermath of her first big public relations crisis: She wouldn't allow her sister, Princess Margaret, to marry her true love because he was a divorced man, and the public is livid. Like, throwing-out-her-official-portrait livid. "The rumors still haven't gone away," she narrates. "I've learned more about humiliation in the past few weeks than I hoped I would in a lifetime."
And the public backlash isn't the only thing causing problems in the royal household. Elizabeth's husband, Prince Philip (Matt Smith), seems to be continuing his spirited, bachelor-like ways, while Elizabeth's mother and sister have temporarily severed their ties with her. Still, doom and gloom aside, there are lots of exciting prospects cropping up in the new season. U.S. President John F. Kennedy and First Lady Jackie Kennedy will be getting a prominent storyline, as will society photographer Antony Armstrong-Jones, aka Princess Margaret's new beau (who's portrayed by resident period-drama hottie Matthew Goode.).
Sadly, though, with the season taking place between 1956 to 1964, it's confirmed that most of the principal actors will be leaving at the conclusion of the season finale, in favor of older actors to appropriately line up with the royal family's respective ages (prosthetics don't always work). So, savor Foy's doe-eyed stares while you still can when the show debuts December 8th.
Related: The Crown's Claire Foy On the Struggles of Being a New Mom and an Actress
Claire Foy Was Very, Very Pregnant When She Auditioned for The Crown: