The Crown Manages to Transform Gillian Anderson Into Margaret Thatcher
Netflix shared a first look at Emma Corrin as Princess Diana and Anderson as the villainous prime minister.
---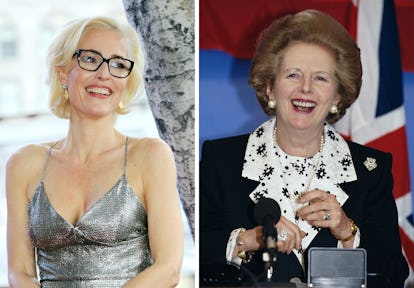 Getty Images
The paparazzi have done their best to offer a glimpse of The Crown season 4 before it premieres on November 15. But it wasn't until this week that we got to see the highly anticipated newcomers up close. On Tuesday, Netflix released a first look at Emma Corrin as Princess Diana and Gillian Anderson as Margaret Thatcher, and the images don't disappoint.
Season 4 spans the late 1970s to the early '90s, starting with the anxiety over Prince Charles (Josh O'Connor)'s singledom at the ripe old age of 30. Of course, a romantic interest soon presents itself: Lady Diana Spencer. Unfortunately, photos have yet to be released of the first time she appears in the series. Corrin makes her on-screen debut as a 16-year-old Diana, who's dressed like a tree for a school play. (It works to her advantage, sort of; when Charles appears, she attempts to blend in with the surrounding foliage.)
The episodes that follow document the ups and downs of their marriage, along with Diana's struggles with bulimia. "You really see Diana turn from a girl into a woman," Corrin told Vanity Fair on Tuesday. "We see her before she goes into the palace, when she is living with her flatmates, and how normal she was before she was plucked from obscurity."
Corrin already bears a striking resemblance to Diana; a blonde wig was all that was needed to make the transformation complete. Surprisingly, the same goes for Anderson. Thatcher's towering hairstyle was so distinctive that Anderson actually passes for the villainous prime minister in the photo of her waving from 10 Downing Street after her 1979 victory. (The series follows Thatcher's relationship with Olivia Colman's Queen Elizabeth II throughout her tenure.)
Season 4 marks the end of an era for The Crown's current stars. Elizabeth Debicki will replace Corrin as Diana in the final two seasons, and Lesley Manville and Imelda Staunton will become the third actors to replace, respectively, Princess Margaret and Queen Elizabeth II. As for Prince Philip, Jonathan Pryce will succeed Tobias Menzies and Matt Smith. At least it seems like Bonham Carter's beloved portrayal of Margaret will get a proper send off. The actor looks moody and racy as ever in the still where she's wearing a low-cut, plunging bustier.
Related: Will The Crown Deign to Acknowledge Prince Andrew and Fergie?