Will The Crown Deign to Acknowledge Prince Andrew and Fergie?
There's renewed interest in the couple, but the creator may want to shy away from Andrew's ties to Jeffrey Epstein.
---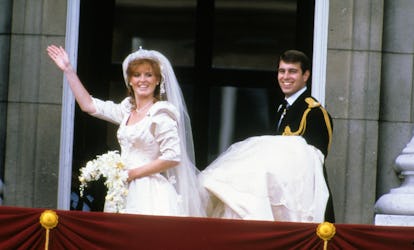 Sarah Ferguson, Duchess of York and Prince Andrew, Duke of York stand on the balcony of Buckingham Palace and wave at their wedding on July 23, 1986 in London, England. Photo by Anwar Hussein/Getty Images.
It might be years before we find out which royal scandals The Crown will tackle in seasons 5 and 6. But Sunday's announcement that Elizabeth Debicki has joined the cast confirms that some—and hopefully many—will involve Princess Diana, who was previously only briefly introduced. Seeing as the series creator, Peter Morgan, recently confirmed The Crown will lead up to the early 21st century, it's safe to assume that the series will portray Diana's marriage, divorce, and untimely death.
But apart from Diana, the casting announcement may shed light into more of Morgan's plans, too. Much of the milestones in Diana's life came to pass in the 1990s—a decade in which Prince Andrew and Sarah Ferguson were also major tabloid mainstays. In 1992, a full four years before the couple split, a Texan millionaire was photographed sucking Ferguson's toe. To deal with her debt post-divorce, Ferguson went on to become a Weight Watchers spokesperson. And while she seems to be on increasingly good terms with the royals, they effectively banished her up until as recently as 2011, when she was mysteriously absent from Prince William and Kate Middleton's wedding guest list.
Andrew also has a somewhat scandalous past, owing mostly to his relationships with models, actresses, and (gasp!) Americans. His public disgrace came much more recently, after a disastrous acknowledgement of his ties to the late sex offender Jeffrey Epstein late last year. Less than a week after his fiasco of a BBC interview, Andrew was reportedly kicked out of Buckingham Palace late last year. Maintaining contact with him has come with a price, as some learned from the outrage over their 60th birthday tributes.
British tabloids reported that the up-and-coming actor Tom Byrne had been quietly cast in the role of Andrew for season 4 in March, which is also when filming wrapped. But there have been no reports whatsoever that an actress had been cast to join him as a young Ferguson in that season, which will mostly coincide with Margaret Thatcher's time as Prime Minister through the '80s. Ferguson entered the royal family with her marriage to Andrew in 1986 and almost immediately became an often controversial media sensation—so much so that it would be hard not to focus on her during the show's fifth season.
It's only natural that Morgan would capitalize on the renewed interest in the pair. But he's always been a bit selective when it comes to faithfully presenting the monarchy's history—perhaps in part because he meets with "people who are very high ranking and very active" in the "organization" at Buckingham Palace four times a year. "Respectfully, I tell them what I have in mind and they brace themselves slightly," Morgan said last September, after reports that Queen Elizabeth II wasn't too happy with the show's portrayal of Prince Charles in season 2.
A direct link to the royals, of course, calls into question the degree of Morgan's creative control. But from the sound of it, Morgan has no intention of giving the royals anything to worry about in the first place. "You know when you get a supermarket trolley that veers to one side, because its wheels aren't right?," Morgan continued. "The wheels on this show want it to do satire, which is what we love doing with our political leaders and royals. But I'm not remotely interested in that. I'm constantly trying to steer it in the other direction, towards something heroic."
Besides, Josh O'Connor, who plays Prince Charles, has already confirmed the series will gloss over one of the decade's most notorious scandals. "When they offered me the role, one of my first questions was—I say questions, I think it was pretty much a statement—'We are not doing the tampon phone call,'" the actor said earlier this year. (A quick refresher on "Tampongate," or "Camillagate": In 1993, tabloids published the transcript of an extremely randy phone call between Camilla and Charles, reportedly when the latter was still married to Diana.)
That shouldn't come as much of a surprise; Tampongate doesn't exactly fit into Morgan's "heroic" category. Neither does toe-sucking, though at least that scandal hasn't been ruled out just yet.
Related: Is Sarah Ferguson Finally Ready for Her Royal Comeback?