The Crown Season 4 Trailer: Princess Diana in a War Movie
Princess Diana is the only person who cracks a smile.
---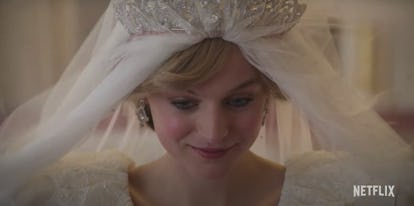 "Fairy tales usually end at this point with the simple phrase 'they live happily ever after,'" says a disembodied voice in the new trailer for the fourth season of The Crown. Though, as almost everyone on planet earth knows, the marriage of Princess Diana and Prince Charles, the main plot point in this season, did not indeed end happily ever after.
Even though a royal wedding is the main event of the season, the new teaser trailer is edited almost as though it were an epic war movie. We even get a sight of Olivia Colman's Queen Elizabeth II, in full military regalia, on horseback like she's about to lead her country into battle.
There's not a single smile or expression of joy to be found on the faces of any of the series's established royal characters, nor on that of Gillian Anderson's Prime Minister Margaret Thatcher's face. Almost chillingly, the only glimpse of joy we get to see is on the face of Princess Diana, played by newcomer Emma Corrin, and, briefly, on those of her friends. The girl doesn't know what she's in for.
The events of season four are tied to Thatcher's Prime Ministership, which lasted from 1979 to 1990. While the politics of Thatcher's term were certainly, well, something, and the seemingly frosty relationship between the Queen's and England's first female PM was a source of fascination, there's no doubt that Diana will take center stage throughout the season. Events covered will include her relatively brief initial courtship with Charles, their royal wedding, and, undoubtedly, the early signs of strain in their marriage.
Season four is set to premiere on Netflix on November 15th.
Related: Will The Crown Deign to Acknowledge Prince Andrew and Fergie?