The Crown Season 4 Trailer: Margaret Thatcher Starts Her Feud With Queen Elizabeth II
The tense relationship between Queen Elizabeth II and Margaret Thatcher is introduced in the official season four trailer for The Crown.
---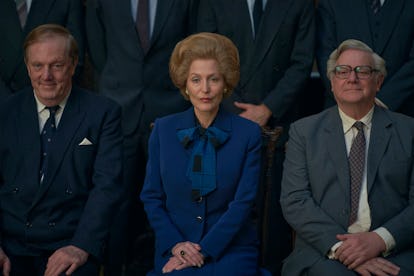 Gillian Anderson as Margaret Thatcher in The Crown. Courtesy of Netflix.
After months of teasers and first looks, the official trailer for The Crown's fourth season has finally arrived.
The last teaser shows Lady Diana Spencer as she enters the royal family wearing her iconic wedding dress in 1981, as a non-diagetic voiceover suggests, "Fairy tales usually end at this point with the simple phrase 'they live happily ever after.'" It also looked an also lot like a violent war movie—quite unlike past seasons of The Crown, though there have been some dark and dreary episodes of the series.
Emma Corrin, who plays Princess Diana this season, is seen again in this first official trailer, and as Princess Margaret (played by Helena Bonham Carter again) might suggest, she appears on the edge of breaking down from the pressures placed upon her by the royal family.
But this season is not solely about the fated marriage between Princess Diana and Prince Charles. Surely it will be a central event, but there is also the introduction of another force in the royal family's lives: Prime Minister Margaret Thatcher. She is played this season by Gillian Anderson, who appears to have nailed her gravelly snarl of a voice in this trailer.
In a statement to Netflix, series creator Peter Morgan explained his thoughts on the relationship between Queen Elizabeth II and Margaret Thatcher. "It could be said that they are two very similar women, born only months apart. They are very much defined by the Second World War, by a sense of a sense of frugality, hard work, commitment, Christianity and so much more," he said.
According to the showrunner, the two were more alike than one might initially think. "It was a commonly held piece of wisdom that the Queen and Thatcher didn't get on. I think there was probably a lot of respect. But they also had many differences, it was really fun exploring their differences and their similarities. I also get a chance to explore them both as mothers. Writing Thatcher and the Queen as mothers was probably an angle that no one has explored before. It yielded one of my favourite episodes in the season."
And even though we get a glimpse of underrated style icon Princess Anne, after all this trailer suggests will go down this season, one question remains: will they address the drama between Prince Andrew and Fergie at some point later on, too? You'll have to stream it on November 15 to find out.
Related: Will The Crown Deign to Acknowledge Prince Andrew and Fergie?