The Crown Will End Early, Bypassing Any Meghan Markle Drama
Meghan Markle will not win an Emmy for playing herself.
---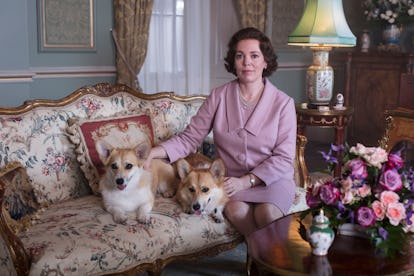 Sophie Mutevelian/Netflix
Here's the good news: Netflix's The Crown has picked its next Queen Elizabeth. Imelda Staunton, the Oscar-nominated and Olivier Award record-breaking actress (who, despite all that, may be best known in America for her role as Dolores Umbridge in the Harry Potter franchise) will take the throne from Olivia Colman in season five.
Here's the bad news: she'll only play the role for a single season. Despite creator Peter Morgan's frequent assurances that he had planned to run the show for six seasons, he's now announced he'll wrap it all up in five.
Which means that any hopes the show will catch up to real time and delve into all the current royal drama have been dashed.
While once one could hope that The Crown would culminate in the marriage of Prince Harry and Meghan Markle and thus serve as a tale of a family learning that it's okay to marry for love, the recent developments in the real world coupled with Morgan's announcement means this won't end as a fairy tale.
"At the outset I had imagined The Crown running for six seasons but now that we have begun work on the stories for season five it has become clear to me that this is the perfect time and place to stop," said Morgan in a statement. "I'm grateful to Netflix and Sony for supporting me in this decision."
Though Morgan announced that Staunton would be "taking The Crown into the 21st Century," it's unclear exactly what that means.
Season three concluded in the late '70s, and only briefly introduced the future Princess Diana in the later half. Season four is expected to cover the years of Margaret Thatcher's prime ministership from 1979 to 1990, which would include both Diana and Charles's royal wedding and the beginning of the royal separation (an infamous confrontation between Diana and Camilla Parker Bowles went down in 1989).
Because The Crown is structured around Prime Minister's terms, it's very likely, then, that the fifth and final season would include the reigns of John Major from 1990 to 1997 and then the rise of New Labour and Tony Blair from 1997 to 2007. Though, the Queen's Golden Jubilee in 2002 could also serve as a natural ending point for the series.
Complicating the matter somewhat is that Morgan has already expertly detailed the Royal's reaction to Princess Diana's death in his film The Queen (Helen Mirren won an Oscar for the titular role).
Still, with that much ground left to cover it's unlikely the show will ever catch up to the present day in a meaningful way. To put it in perspective: the series hasn't even announced the casting of a Sarah "Fergie" Ferguson yet, let alone their Kate Middleton.
Unless, of course, Morgan decides to end it Six Feet Under style with Meghan Markle on a plane back to Canada while blaring a Sia song in her headphones as the fates of her royal in-laws are revealed via montage.
Related: Could Princesses Beatrice and Eugenie Emerge as the Winners of Megxit?
A Brief History of Royal Wedding Dresses
Notably, for her wedding to Jack Brooksbank on October 12, 2018, Princess Eugenie chose to wear a dress by Peter Pilotto that specifically showed off the long scar down her back. The scar was from a major back surgery she underwent as a 12 year old, to cure scoliosis. Today, Princess Eugenie is the patron of the Royal National Orthopaedic Hospital, the hospital that did her surgery. Photo courtesy of Getty Images.

Pool/Samir Hussein
At her wedding in May 2018, Meghan Markle wore a gown by British designer Clare Waight Keller. Her veil featured embroidery of flora representing all 53 Commonwealth countries, as well as a poppy, the flower of Markle's home state of California. Photo courtesy of Getty Images.

WPA Pool
Kate Middleton wore a custom gown by Sarah Burton for Alexander McQueen, made in English and Chantilly lace and satin gazar, for her wedding to Prince William on April 29, 2011. The dress featured roses, lily, and shamrocks and was made using 19-century needlework techniques. Photo courtesy of Getty Images.

CARL DE SOUZA
Camilla, the Duchess of Cornwall wore an overcoat and dress designed by Antonia Robinson and Anna Valentine, with shoes by L.K. Bennett, for her wedding to Charles, the Prince of Wales, on April 9, 2005. Photo courtesy of Getty Images.

Anwar Hussein Collection/ROTA
Photo courtesy of Getty Images. Sophie, the Countess of Wessex, wore a design by Samantha Shaw, and was able to take of the coat-like layer to reveal and evening gown for revelry after the official ceremony on June 19, 1999.

Anwar Hussein
For wedding to Prince Andrew, Duke of York, on July 23, 1986, Sarah Ferguson wore a dress by Lindka Cierach, which was beaded with heart and anchor symbols. Photo courtesy of Getty Images.

John Shelley Collection/Avalon
Princess Diana wore a silk taffeta gown with a 25-foot train, and a 153-yard long veil by David and Elizabeth Emanuel for her wedding to Prince Charles on July 29, 1981. Photo courtesy of Getty Images.

David Levenson
For Princess Anne and Captain Mark Phillips ceremony in 1973, the princess wore a dress designed by Maureen Baker for Susan Small, and featured elegant draped sleeves. It was quite close to the wedding dress trends of the time.

PA Images
A look at Princess Elizabeth, future Queen Elizabeth II, on her wedding day to Prince Philip on November 20, 1947. The fabric for the wedding dress had to be purchased using ration stamps, as in 1947, the British government was still rationing many products. The designer, Norman Hartnell, embroidered jasmine, lilac, and other flowers on the dress, whose design was said to be inspired by the Botticelli's Primavera. Photo courtesy of Getty Images.
Inspired by the drop waist style ushered in by Coco Chanel, the embroidered gown was created by Queen Mary's court dressmaker, Madame Handley Seymour, for Lady Elizabeth Bowes Lyon for her wedding to the Duke of York (and later George VI) on April 26, 1923. Photo courtesy of Getty Images.

Hulton Archive