The Dark, Twisted Natalie Portman in "Jackie" is the Natalie Portman We've Been Missing
Why the actress, who plays Jackie Kennedy in Pablo Larraín's new film, is never more watchable than when she goes dark.
---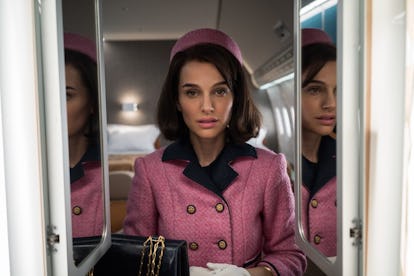 Stephanie Branchu, © 2016 Fox Searchlight Pictures
When Lee Harvey Oswald aimed a rifle at John F. Kennedy on November 22, 1963, and fired two shots as the President and his motorcade passed through Dallas, one bullet tore through Kennedy's skull. He collapsed in the lap of his wife, First Lady Jacqueline Bouvier Kennedy, who clutched at the fragments of bone and brain that stained her prim pink suit.
It's a brief, brutal, violent moment in Pablo Larraín's highly stylized, yet not at all sanitized, portrait of the former First Lady, Jackie, out this week. In the aftermath of her husband's assassination, Jackie, as portrayed by Natalie Portman in nearly every frame of this feverish film, chain smokes, swigs liquor straight from the bottle, and blasts the soundtrack for the musical Camelot as she roams the halls of the East Wing, swaying drunkenly. These are the unseen moments Jackie herself scrubbed from the record as she seized control of the official narrative in the wake of her husband's death. But even our collective memory of Jackie — those grainy Zapruder images that the FBI examined in such minute detail — are reimagined in Larraín's and Portman's hands. When she steps off the plane delivering her back to Washington, D.C., in the same blood-soaked pink suit, Larraín's camera maintains a tight focus on her face: drawn, eyebrows knitted together, lips quivering just slightly. It's only later, when she finally steps out of that suit and into the shower, blood flowing from her hair in rivulets, that she gives herself permission to really lose it.
Portman hasn't received this much critical adoration since she won an Oscar for Black Swan six years ago. In the meantime, she started a family, married Black Swan choreographer and former Paris Opera Ballet director Benjamin Millepied, took on a big-budget franchise (2011's Thor and its 2013 sequel), worked with Terrence Malick (2015's Knight of Cups), and, earlier this year, dipped her toe into producing with Jane Got a Gun and directing in A Tale of Love and Darkness. Neither of them were great successes. ("People are like, 'What has she done since Black Swan?'" Portman laments in a recent New York magazine story.) But it's when she comes back to dark, intense character studies that the cerebral Harvard grad really recaptures the cultural conversation, which has largely moved on from Natalie Portman as a figure of interest.
Part of the power of Portman's Black Swan performance — in which she plays a ballet dancer who nabs top billing in a Lincoln Center production of Swan Lake, and then becomes physically and psychologically consumed by it — is that it felt like a quietly savage destruction of the porcelain-skinned movie star from The Phantom Menace. As Nina in Black Swan, Portman merged for the first time with a character whose arc played out in parallel to the actress's own narrative. As we watched her remarkable physical transformation for the part — she was so angular and gaunt she appeared hollowed out — we also felt as if the doll-like flawlessness of Portman's rather austere public image was eroding along with Nina's sanity in her quest for perfection onstage.
"A dolorous performance… She suppresses tears, then trembles, cries, crumples — she's always collapsing — and her neck chords stand out like ship's rigging," wrote the critic David Denby in his 2010 New Yorker review of Portman's performance in Black Swan. It's also an apt description of her Jackie. As in Black Swan, Jackie also betrays the sense that it's something of a rite of passage for its star. She's a mother, a Hollywood veteran, practiced at the art of public and private — just like Jackie. At 35, her face is no longer unlined; her character's emotional state is betrayed by drawn lips, lone flyaway strands of hair, the beginnings of crow's feet at the corners of her eyes. The pathos plays across in subtle transformations in her gaze, rather than any dialogue. She's aged into the role — it's not one she could have played circa Black Swan, yet now it's hard to imagine anyone else (not even Rachel Weisz, who was originally tapped for the part) as Jackie.
In the film, Jackie is often depicted in relation to maternal functions: grieving widow, doting parent, magnanimous mother of the nation. Portman's performance is studied — her unplaceable, transatlantic accent honed from watching countless hours of the First Lady on film — yet her most radiant moments are not the reconstructions of historical events (like Jackie's famous televised tour of the White House, painstakingly re-enacted) but rather the ones that imagine who she might have been in the aftermath of her husband's assassination, on her own terms. There's nothing comfortable about Portman's Jackie; there's nothing comforting about it, either.
The most compelling Natalie Portman performances have always been the most at odds with her meticulous image. She made her controversial and acclaimed big-screen debut in 1994's The Professional, in which she plays Mathilda, the Lolita-esque 12-year-old protégée of a hitman, who teaches her the trade after her father is killed by a corrupt government agent. While Portman's mainstream break came as the nubile Padme Amidala in the Star Wars prequels, first in 1999 and then 2002 and 2005, and as the quintessential (now paradigmatic) manic pixie dream girl who coaches Zach Braff to self-actualization in 2004's Garden State, it was when she returned to a darker role, as the tormented, pink-wigged stripper Alice Ayres embroiled in a four-way affair with Jude Law, Clive Owen, and Julia Roberts in Closer, also in 2004, that she returned to critical favor: Roger Ebert gave the film four stars, and Portman earned her first Oscar nod, a nomination for Best Supporting Actress. Her first win came six years later, when she was named Best Actress for Black Swan.
She's already on track for similar success with Jackie: She has earned Best Actress nominations from the Gotham Awards, Independent Spirit Awards, and Critics' Choice Awards, all before the film hit theaters. If it succeeds commercially in the same way Black Swan did, it could mean another statue for Portman. Whether that comes to pass, all the early Oscar buzz has told us is this: Difficult, uncomfortable, twisted Natalie Portman is the Natalie Portman we've been waiting for. Welcome back.