Preacher Pattinson Will Give You Chills In The Devil All the Time Trailer
You'll probably have a chance to watch Robert Pattinson play a corrupt preacher in Netflix's The Devil All the Time before you can see Tenet in theaters.
---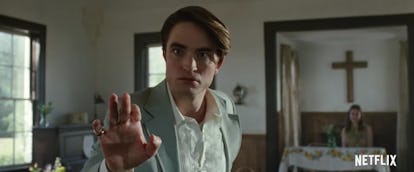 Image courtesy of Netflix
Netflix is taking a dip into the Southern Ohio Gothic genre in the new trailer for The Devil All the Time.
Based on the Donald Ray Pollock novel of the same name, the story takes place in Ohio between World War II and the Vietnam War, and follows an orphaned young man named Arvin Russell (Tom Holland) as he is plagued by memories of his past and the corruption in his present.
Midway through the trailer for The Devil All the Time, which Netflix just released today, Robert Pattinson appears. Over the years the actor has been cast as a vampire, a caped crusader, a bank robber, and a lighthouse wickie. But now, he finally gets to flex on screen as a corrupt preacher, and according to this trailer, he appears to be going full Eli Sunday (real There Will Be Blood fans know), albeit in a powder blue suit and ruffled white shirt for this role as Preston Teagardin.
Pattinson and Holland are joined by Bill Skarsgård, Riley Keough, Jason Clarke, Sebastian Stan, Haley Bennett, Eliza Scanlen, and Mia Wasikowska to fill out the rest of the story involving a "twisted couple" and a crooked cop. Antonio Campos directed the adaptation of Pollock's novel, and Jake Gyllenhaal served as a producer.
This movie drops on Netflix on September 16, so think of it this way: you'll probably watch The Devil All the Time before you have a chance to see Tenet.
Related: Robert Pattinson's Quarantine Seems To Be Going…Well?