The Direct-to-Consumer Labels to Shop for Fall Fashion Now
No runway, no problem. These three brands are building cult followings by creating quality pieces that shoppers can covet and purchase, all in one go.
---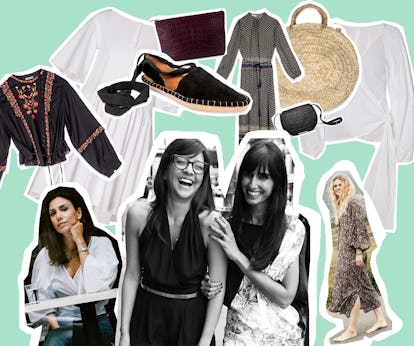 "See now, buy now," as it has come to be known, has been dominating front-row talk for the last two seasons, and the debate continued to rage this past September during the Spring 2017 shows, when powerhouse brands like Tommy Hilfiger and Burberry decided to show fall clothing.
Meanwhile, in San Francisco, Los Angeles, and New York, independent brands have quietly been creating wares that actually reflect the current temperature outside, and are creating waves of their own. Here, meet three brands whose collections are lust-worthy, cool, and shoppable now.
Cuyana is a fashion and accessories label born out of the co-founders' desire for "fewer, better things." The brand has adopted that motto whole-heartedly, and it's something that resonates with a growing group of women who refuse to participate in the cycle that is fast fashion. "We felt unfulfilled by the way the industry was pushing us to consume in an unthoughtful way," Shilpa Shah explains. "Each product we create is carefully considered from beginning to end, and this fresh, accessible approach to fashion really resonates." Fresh is a good way to describe what Shah, and her co-founder Karla Gallardo, create at Cuyana. Each piece in their tightly-edited clothing and accessories line feels of-the-moment, yet timeless. The duo has nailed handbags, and above and beyond having a good eye for what their devotees want, Cuyana partners with family-run business for their materials. "It allows us to make quality [pieces]" Karla notes, with Shilpa adding, "we design, produce, and sell in a way that encourages our customers to shop with intention."
Best Sellers "Our Classic Leather Tote is a timeless piece that our customers carry for years. It's crafted right, and will get better with age. Our soft Wool Cashmere Sweater is a true investment piece and customer favorite." – Karla
What's next for the label? "This week, we are launching our first-ever exclusive Cuyana capsule collection. These limited-edition pieces are unique and elevated, with a focus on luxury Italian materials such as premium crocodile-embossed leather and pure chunky-knit cashmere. It is a collection that fully embraces our philosophy of the most premium quality, production, and craftsmanship." – Shilpa
What is the one piece you'd like to buy now? "I have my eye on the crocodile-embroidered leather pouch from the capsule collection. It's the ultimate investment piece. I love that you can carry it as a clutch or simply use it as an opulent means for organization." – Karla
Fans of the Brand Angelina Jolie, Jessica Alba, Louise Roe, Amber Heard, Karolina Kurkova, and Reese Witherspoon
Dôen may just be fashion editors' worst-kept secret – and for good reason. The small direct to consumer brand was started by sisters Margaret Kleveland and Katherine Kleveland, along with six additional founding partners. They launched quietly in February, offering a range of elevated peasant-style blouses and dresses in beautiful breezy fabrics. "Direct to consumer, as a channel, was as much a part of the inspiration and motivation to launch our brand as our desire to create and design our product," the sisters say. "As shoppers, we love the hunt and want that instant gratification – we are very connected to the shopping experience. There is so much energy and excitement when we are launching new collections, telling a new story, and our customers [are able to] express excitement and anticipation on social media."
For fall, Dôen offers an array of covetable knits, in those earthy colors that the brand has become synonymous with. The easy-to-wear pieces were so well-priced, key favorites are often snapped up right away, and many a fan has had to sign up for re-stocking notifications. So, don't get left behind.
Best Sellers "We are trying to speak to a full lifestyle with our brand, and offer products for the whole picture. We think people are excited by our colors, our vintage inspired pieces and details, and our prints and fabrics that feel reminiscent of a different time or place."
What's next for the label? "We are working on growing our shoe offering, because we really see this as one of our strengths and as a category within our market that there is a huge space."
What is the one piece you'd like to buy now? "It's like asking us to choose a favorite child! We are very excited to wear the Willow dress and the Lace-up Moccasin all Fall."
Fans of the brand Rosie Huntington-Whiteley, Selma Blair, Michelle Monaghan
Merlette NY is a resort-focused collection by Marina Cortbawi, an alumna of Oscar de la Renta and Carolina Herrera. She launched her line this past July, with the global woman in mind. "The direct-to-consumer model is one of our channels which allows us to craft our own personalized experience," Cortbawi explains. "Through e-commerce we can easily sell directly to customers across the globe and gain instant feedback."
So far, that feedback has been pretty incredible – with pieces nearly selling out thanks to the beautiful, breezy fabrics that the label launched with. "We believe that launching in July at the start of the summer and having pieces available for purchase definitely gave us an advantage. We realize it's important to meet the customers where they are and provide what they want in the exact moment they need it," says Cortbawi.
Best Sellers "The Sant Josep wrap embroidered wrap blouse been the best seller of the collection, as well as the tiered Soliman dress and the Clemente dress."
What's next for the label? "Collection #2 will be launching this December, which is an evolution of the first collection, and will include some more fall appropriate pieces such as pants, jackets and long sleeve blouses. We have developed some beautiful new cotton fabrics featuring the signature hand embroidered details and easy voluminous shapes."
What is the one piece you'd like to buy now? "The Nosara Dress in both black and white"
Fans of the brand Artist Anouk Colantoni, and plenty of fashion editors