Rooney Mara Finds Love Amidst Mass Suicide in The Discovery Trailer
What if science proved there was an afterlife?
---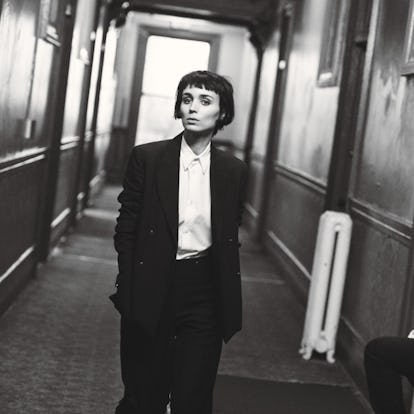 Photographer: Peter Lindbergh Stylist: Edward Enninful
What would people do if scientists could prove the existence of an afterlife? According to The Discovery, the latest film about death making its way to Netflix, many would commit suicide.
The first trailer for the film, released on Wednesday, features Jason Segel as Will, the son of the man who made the earth-shattering breakthrough, played by Robert Redford, and Rooney Mara in a blonde wig as Ilsa, Will's love interest. Both Segel and Mara's characters return to a mysterious island a year after the afterlife has been proven amid the chaos of mass suicides around the world. If that description sounds morbid, it should come as no surprise that the movie looks just as unsettling.
Set to Roy Orbison's "Only the Lonely," the teaser starts our innocently enough, with plenty of romance and majestic New England landscape, but things turn in a disturbing direction, and fast. About 30 seconds in, the peppy tune slows, and we see only sinister-looking shots of science experiments, Mara and Segel carrying a corpse, a creepy home video, a cultish scene, and Mara wading through the ocean, though somehow, not wet. Also notable is odd signage posted in what look like public locations, reading "Suicide is not the answer…Stay in this life" and its digital counter is ticking above the 4 million mark.
The only dialogue is uttered ominously by Segel at the trailer's end: "People are just gonna keep killing themselves."
Jesse Plemons and Riley Keough are also in the film, which is directed and co-written by Charlie McDowell. The Discovery is set to premiere at the Sundance Film Festival on Friday and will be available to stream on Netflix on March 31, 2017, so start bracing for some sci-fi strangeness now.
Watch Rooney Mara recall her unique 18th birthday party: