Richard Phillips, Artist, Turns Underwear Maker
He wants you to spend $175 for his new boxers.
---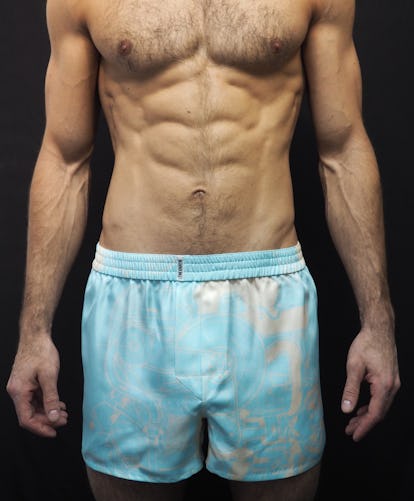 Richard Phillips has always been interested in celebrity culture and the politics of personal branding. In recent years, he's earned a degree of notoriety for Most Wanted, his series of celebrity portraits featuring the likes of Taylor Swift and Lindsay Lohan that showed at White Cube in London in 2011. He's also raised eyebrows in the art world for his frequent and high-profile collaborations with luxury brands. After making clutches for Jimmy Choo and makeup for MAC Cosmetics, he's now turned his attention to – ta-da! – boxer shorts. He created two limited edition boxers in silk twill for the underwear brand The Eighth using prints based on his pieces Weed II and Engine. On a recent afternoon at Mathew Gallery in the Lower East Side, where he was installing his first solo show in three years, Phillips explained why his boxer shorts are worth $175.
First of all, boxers or briefs? Briefs. Boxers have too much material in the mix. But for the project, boxers worked for practical and aesthetic reasons.
How do you feel about the idea of someone wearing your prints as underwear? It's like a secret between you and the buyer. Luxury underwear is an area that has a hidden cache. It's cool because it's a not so hidden secret… depending on what your relationship is to those who might see it.
It's a very specific collaboration. How did it come about? The Eighth's owner's daughter is interested in art and knew of my work because the main character on Gossip Girl had one of my paintings hanging in her living room on the show. Her investigations led her to my artwork and The Eighth approached me to collaborate. I didn't know about luxury under garments – the quality and material are at such a high level. Who knew life could be so good?
It's appropriate that she knew of your work from Gossip Girl as your practice is so interested in pop cultural. Not to mention you also made a cameo on the last season and Gossip Girl comes up on your Google search. How do you feel about being tied to the show? Gossip Girl was really a way to reach a broader audience. I've received a lot of criticism for it, but for me it was important, given the opportunity to show a broader audience that art is a viable language that should be nurtured and pursued, rather than left to atrophy. It can function critically as much as it can function as a pop marker.
It's quite similar to what you're doing with the underwear collaboration as well – giving people access to your work who might not normally have had it. Art appears in unusual places. We've seen it early on with Warhol and the collaborations he did. It was always surprising to see where art would come up. Keith Haring was the same way with his Pop Shop. It's a way for the work to reach people in surprising ways, so the work has a broader consciousness. It's important to consider other potentials outside of the physical work itself.
And with fashion brands doing these major collaborations, people can access art so much more easily now. Take Vuitton's collaboration with Yayoi Kusama for instance. For you, is there a difference if I bought the boxers versus the original paintings? There is definitely a difference. The artwork is an autonomous object – it has its own feeling of sensitivity. I think that when the image is used in the context of boxers, it's referring to a broader idea. There's a conversation that goes on between them, but they're distinctly different.
You've done other collaborations with major brands in diverse mediums – Jimmy Choo, MAC makeup, now boxers. How do you approach them? I try to take convention and turn it on its head and find a new way to see the products. I make sure the physical manifestation of the works come out as desired.
Tell me about the show at Mathew. It's your first solo show in 3 years. Why this gallery when you're signed with Gagosian and why now? I've had a relationship with David, the owner, for over 13 years. He came for a studio visit and it became clear that this exhibition needed to happen and this space was perfect for it. He completely reconfigured the gallery to have this show – re-did the lighting, and broke down and built walls.
How does the art work in dialogue with each other? It's really about the overlaid images from Christopher Wool and Albert Oehlen. The Oehlen paintings are based on his 'computer paintings' he made between 1993-2006. The Wool paintings are from 1988. I reconstituted these two patterns using brilliant fluorescent color.
So the work is rooted in appropriation, the way Richard Prince famously decontextualized the Marlboro ad without changing it. Why did you choose these images? I look to an earlier model than the pictures generation from which Richard is from. I look to Jasper Johns specifically, the work he and Rauschenberg did that had a playful relationship in concept and execution. Like when gallerist Leo Castelli bragged that he could sell a can of beer, and Johns bronzed two beer cans as his new work. Both Christopher and Albert's work has been important to me – their work has to do with my memory. I came to New York in 1986 and saw their work exhibited. I wanted to bring color to them, bring them into a different dialogue and change their perceptual value and thus the way they work. I just want to change perceptual evaluation. The playboy marker is a stamp, a branding which stifles the purely artistic experience. People don't recognize they are prints by those artists unless I tell them. This work is about jumping off into a new language where painting strategies can be reconstituted and looked at anew.
I have to ask – you're known for your paintings of Taylor Swift. Why her? Have you ever met? I've met most people I've painted – Dakota Fanning, Christy Turlington, but never her. I chose to make the paintings of Taylor in 2010 to answer a simple question: what are the constituent elements that are needed for validation of contemporary art? One is celebrity endorsement, the other is luxury sponsorship. So for the exhibition I did at White Cube [Most Wanted], I had a luxury sponsor, the way entertainers create a relationship between themselves and the brand.
Photos: Richard Phillips, Artist, Turns Underwear Maker
Richard Phillips. Courtesy of the artist.
The Eighth x Richard Phillips. Courtesy of the artist.
Richard Phillips on view at Mathew Gallery.
Richard Phillips on view at Mathew Gallery.