The Engineer Behind Bon Iver's 22, A Million Clears Up Any Confusion About Its High-Tech Sound
Chris Messina figured out the perfect combo of software and hardware that lets Justin Vernon sound the way he does. "But here's the thing," Messina says. "It's not a thing."
---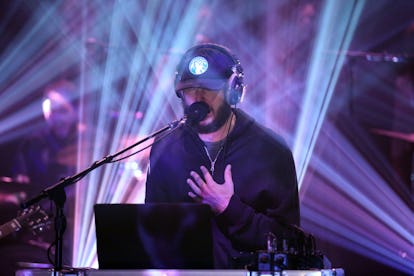 Getty Images
About a third of the way through Bon Iver's show in December at Pioneer Works in Red Hook, Brooklyn, the singer Justin Vernon had his Kanye West moment. A singular spotlight illuminated him from behind — an ultralight beam, if you will — and the crowd hushed as he revved his keyboard engines to play the heavily-synthesized, vocals-only song "715 – CRΣΣKS," from his album 22, A Million, which came out in September.
If you haven't yet had the pleasure of listening to "715 – CRΣΣKS," it sounds like if Darth Vader spent a lonely winter's night rambling about love, loss, and Wisconsin. Or if an encrypted caller asked you to meet "down along the creek," in a way that makes you think: "Okay, maybe I will." Scratchy, deep breaths throughout give it a slow, dramatic tempo; Vernon's voice is multiplied into a choir of moody men, all harmonized in real-time by Vernon himself.
These effects on "715 – CRΣΣKS" are all made possible through a groundbreaking new synthesizer known as The Messina, which is a combination of hardware and software put together by Vernon's engineer, Chris Messina. That night, Messina himself was somewhere behind the scenes conducting "nerdery," as he calls it. But others might call it a sonic miracle or sorts, for its ability to do in the moment what no synthesizer has done before. The result feels like a Kanye West moment is because it is one — only Bon Iver did it first.
Back in 2009, West heard Bon Iver's "Woods," a quiet single on his EP Blood Bank, and immediately fell in love with its tender use of Auto-Tune, which until then was primarily proliferated by hip-hop artists like T-Pain. West crowned Vernon one of his "favorite living artists" and then invited him to sample it for West's song "Lost In the World," off of 2010's My Beautiful Dark Twisted Fantasy — an album that marked a sophisticated leap in West's use of synthesizers. "Runaway," for example, concludes with a stunning four-minute solo vocoder riff where West's voice becomes its own instrument in an orchestra of robots.
But the use of Auto-Tune and vocoders, which are engineering techniques that take the input of a human voice and synthesize them to sound digitally manipulated, is nothing new. A vocoder was used in the film A Clockwork Orange to give an ominous twinge to Beethoven's "Ninth Symphony," as well as by artists ranging from Cher to Coldplay. What felt new, however, was that a hip-hop artist like Kanye West sounded like the indie-folk Bon Iver, and vice versa. Together, they expanded the possibilities of what synthesizers can do both sonically and philosophically, and Messina is one of the many minds behind the scenes pushing the technology forward.
Back in 2011, Messina set up Vernon's studio, April Base, out in Wisconsin, which allowed him to really take his music to the next level when it came to digital effects. Prior to that, Messina toured the world as an engineer for the world's second-largest sound company, working with everyone from Tom Jones to Madonna. But it was Vernon who gave him free reign to start from scratch and build from the ground up.
Today, synthesizer effects are ubiquitous in an industry where engineers are becoming essential deputies for forward-thinking musical artists. And they're only getting more and more advanced. This year alone, James Blake used a vocoder throughout The Colour In Anything, and both Frank Ocean and Chance the Rapper used a device called a Prismizer for their projects, which has a similar cloning and disseminating effect; it allowed Ocean to literally have "two versions" on Blonde.
When West and Vernon collaborated with Francis and the Lights on the song "Friends" this year, Vernon was so inspired by the possibilities of Francis Starlite's Prismizer — which Starlite himself invented — that he wanted to adapt the technique for 22, A Million. But he also wanted to be able to create the same effect in real time in the studio and on stage. This was not something that either the Prismizer or any other program out there could support, however, without some latency. So Vernon challenged Messina to hardwire something that could.
It's impossible to fully comment on 22, A Million without bringing up The Messina. And as a result there's been some confusion about what exactly The Messina is, and does. (The irony, of course, being that Vernon is a man of very few words and hasn't offered much in the wake of its release.)
A few days after the Pioneer Works show, Chris Messina was on the phone; he was willing to offer a simplified version of what goes on with his machine. "Onstage, Justin is singing a song, and he's playing a keyboard that can create harmonies simultaneously," he said. "Normally, you record something first and then add harmonies later. But Justin wanted to not only harmonize in real time, but also be able to do it with another person and another instrument. The result is one thing sounding like a lot of things. It creates this huge, choral sound."
When I asked Messina to describe what The Messina looks like, he responded, "Here's the thing — it's not a thing. There's a laptop running software, and then that software is run through a physical piece of hardware, that is then doing another thing," he explained. "It's many things working together and none of them are ours, but the product is. Basically, we used things the way they're not normally intended, and we put them together. That's how we get the sound."
Despite its complexity, the Messina actually works best when it goes unnoticed. "It's definitely a trend," said Messina of vocal effects produced by devices like The Messina. "But the people who get the most exposure are the ones who do it well by not overusing it. It's merely an effect."
In other words, The Messina doesn't make the artist. Kanye West and Bon Iver are successful because they don't rely technology alone to make music. You still need a unique and powerful voice to feed it.
"The thing that makes the sound of it new is the way that Justin plays it," said Messina. "That's why it doesn't sound like anything else. We designed it to make sure Justin could do his thing in the best possible way. He just decided to name it after me, much to my chagrin."