Inside New Downtown Hot Spot The Flower Shop, the Cheers For Cool Kids and Celebs
Where Lenny Kravitz is just the next guy up at the pool table.
---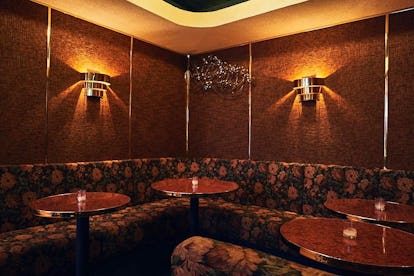 @ theflowershopnyc
In the late aughts, Ronnie Flynn hosted Thursday and Friday nights at Southside, a Manhattan club he always had packed and buzzing with artists, DJs, and the downtown demimonde. "I guess I quickly learned the art of the NYC hustle," recalled the 33-year-old Sydney, Australia transplant, who has since built an impressive after-hours resume, curating nights for hot spots like Acme, the Jane, Westway, Up&Down, and NeverNever. So expectations were high when he announced he was opening his own place, The Flower Shop, with his pals Will Tisch and Dylan Hales, the latter of whom founded cult Nolita restaurant Ruby's.
Part restaurant, part subterranean lounge, The Flower Shop has become the go-to weekend watering hole for cool kids and creatives since it opened its doors a month ago. At first glance, the Lower East Side haunt looks like, well, your grandparents' house. Which was exactly the intention.
"We purposely tried to not over-design the place," said Flynn, who filled the walls with finds from flea markets and vintage stores, like antique picture frames with yellowing photographs and quirky vintage ads. Inspired by mid-20th century nostalgia and the show Cheers, the trio wanted to recreate a comfortable pub similar to the ones they'd frequent in Australia, a style of nightlife they found lacking Stateside. "In traditional Australian pubs there's a downstairs with pool tables, slot machines, a juke box and usually a carpet," explained Flynn. Check, check, check, and check.
From Thursday to Saturday, you'll find Flower Shop jammed, with a celebrity or four queuing up for a round of pool, perched barside, or sprawled in the retro booths that line the space. The lounge is perfect for a night with old friends or even—gasp—making new ones. "We wanted to create a social hub with no pretense," Hales explained. At Flower Shop, you're bound to run into someone you know—and if not, your friends certainly will. But the best part? You can actually hear yourself talk. "Right now people are bored of fancy restaurants and loud nightclubs," Hales said. Agreed.
Upstairs you'll find chef Michael Hamilton, whose past posts included stints at Daniel and Kingswood, preparing ethically-sourced European fare that is easy to love, like mussels on toast with parsley and green garlic, and a radish salad with miso butter, lime and sansho pepper. The cocktail list include classic martinis and the house specialty, the Pirate Rose, made with vodka, fresh lime, mint, and roses.
Despite having track records in nightlife, the owners aren't seeking the party-to-dawn crowd at Flower Shop. "It's basically anything but a nightclub," Hales said. "Downtown has been craving something with personality and soul for a long time, so this is a good vibes, leave-your-ego-at-the-door kind of venue."
The Eats
It's definitely worth grabbing a bite before heading downstairs. For vegetarians, the roasted mushroom main, with black lentils, kale and soft egg. For carnivores, the black garlic cheeseburger (Flynn's personal favorite). Small plates begin at $12, mains at $16, and cocktails at $13.
The Basics
107 Eldridge St, New York. Open Sunday through Wednesday 5pm – 12am, and Thursday to Saturday 5pm to 2am. For dinner reservations call 212-257-4072. For the lounge, walk right in.
Tribes
A well-curated one from all walks of life. From bright-eyed kids in their early twenties, to celebs like Lenny Kravitz and Abbey Lee, designers like Alexander Wang, and models like Anna Ewers and Lily Donaldson.
The Door
Democratic. In the words of the boys, "anyone with a smile and a good attitude is welcome."