The Formula to Fran Lebowitz's Signature Look
It's easy to get the writer's iconic look, since it never changes. But pulling it off takes a certain attitude.
---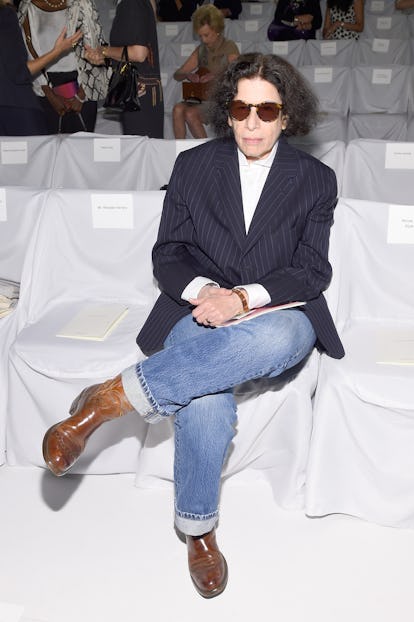 Getty Images
"I hate to go shopping, I can't stand it," Fran Lebowitz told The New York Times in 1984. "I wish everything would just sort of appear." And as she made clear in her recent interview with W, she not only has little interest in acquiring new clothing, but also material things in general — not even a computer.
Despite that, however, the writer has excellent taste. Her now-signature look is comprised of custom men's suit jackets from the Savile Row tailor Anderson & Sheppard, wing-tip cowboy boots, men's white button down shirts from Hilditch & Key, men's Levi's 501 jeans, and tortoiseshell glasses. It's a fashion formula that she's owned for decades, so clearly it works. And many have tried to copy it, according to Lebowitz.
"I feel very strongly that almost the entire city has copied my glasses," she told Elle magazine last year. "I went to a fashion show during fashion week, and everyone there had on my eyeglasses. Warby Parker has also copied my eyeglasses."
Here's how to replicate Lebowitz's look for yourself today — although pulling it off takes a certain attitude.
The Fran Lebowitz Starter Pack
Marlboro cigarettes, $15, any New York deli.