The French Dispatch Trailer: Gasp! Timothée Is Naked
Like the poster, the trailer for Wes Anderson's 10th film, The French Dispatch, features Timothée Chalamet in a bathtub.
---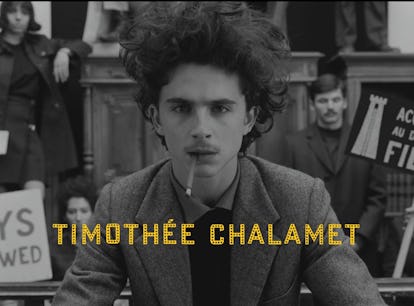 The highly anticipated trailer for The French Dispatch, Wes Anderson's 10th film (and first live-action feature since 2014's The Grand Budapest Hotel), has finally arrived.
For those of you who saw the poster released earlier this week and made note of Timothée Chalamet, one of the film's stars, in a bathtub with towel-wrapped hair, you'll be pleased to find that in the first official trailer, the actor gasps and utters the line, "I'm naked!" while Frances McDormand barges in on his bath time.
But this movie isn't just about Lil' Timmée in a tub. It's a movie about a magazine.
Billed as "a love letter to journalists," The French Dispatch's trailer reveals the plot of the film to be a collection of (possibly loosely connected) vignettes published by a fictional publication called The French Dispatch. The weekly magazine is thought to be based in part on The New Yorker.
In addition to Chalamet and McDormand, the film boasts appearances from Anderson mainstays Bill Murray, Owen Wilson, Anjelica Huston, and Adrian Brody, as well as Tilda Swinton, Saoirse Ronan, Willem Dafoe, Elisabeth Moss, Jeffrey Wright, and Léa Seydoux. Many of them play expatriate journalists who relocated to the fictional French ville called Ennui-sur-Blasé, and some play the characters from the stories published in the Dispatch come to life. (The full title of the film is actually The French Dispatch of the Liberty, Kansas Evening Sun.)
In typical Andersonian style, the film looks like a storybook come to life. The trailer also reveals some possible references to time jumps, but it takes place post–World War II.
Chalamet, in all his mustachioed glory, plays a character named Zeffirelli, who is based on student protesters involved in the May 1968 riots in Paris.
The French Dispatch will debut in theaters July 24. That should give Timmée enough time to finish that bath.
Related: Wes Anderson's French Dispatch Poster Has Timothée Chalamet in a Bathtub