The Hamilton Mixtape Has the World Excited About a Ja Rule and Ashanti Song
Lin-Manuel Miranda announced that the long awaited, all-star "Hamilton Mixtape" will be available for pre-order tomorrow.
---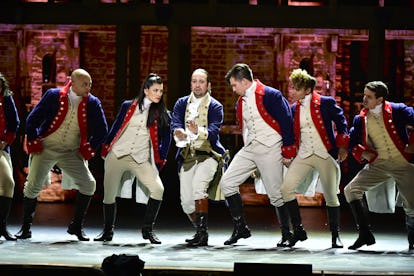 CBS via Getty Images
It has been a long, long time since the world has been excited about a new Ja Rule and Ashanti team-up. In fact, it's been about 12 years since one of their collaborations hit the top 40. Yet, thanks to the magic of Hamilton we can pretend like it's the TRL days all over again and get excited about an Ashanti and Rule song.
The pair will take on Hamilton song "Helpless" on the long anticipated, but until now highly secretive Hamilton Mixtape. The track is just one of 23 all-star takes on tracks from the Tony-winning Broadway blockbuster. The newly revealed tracklist includes everyone from Sia to Kelly Clarkson to Nas to Alicia Keys to even Jimmy Fallon. Sure, why not?
There's literally just about something for everyone's musical tasted on here. Fan of late '90s indie twee? Great, Regina Spektor and Ben Folds are taking on "Dear Theodosia." Like crowd pleased R&B-tinged pop? Usher has your cover of "Wait for It." Neo-soul? Jill Scott is on "Say Yes to This." Mainstream rap? Wiz Khalifa is on "Washington's On Your Side" duty. Music made by Chrissy Tiegen's husband? Yep, John Legend is covering "History Has Its Eyes on You."
Hamilton creator Lin-Manuel Miranda released the details on Twitter this morning.
The songs will range from straight-up covers to reworkings to remixes. The exact release date hasn't be revealed yet, but a since edited Amazon U.K. listing had the drop date on December 2nd.
Tariq "Black Thought" Trotter of The Roots was tasked by Miranda to help put the album together, and explained the inspiration behind the project in an interview with Entertainment Weekly earlier this Fall.
"The mixtape is sort of a love letter from both sides," Trotter said. "One from Lin to the artists and M.C.s who inspired the songs that were part of the Broadway production"—like Busta Rhymes and Common—"and then on the other [side], from the artists who were inspired by Hamilton, and who were massively affected in a great way by the experience of the play."
Though, we're just wondering if one of these tracks can break out on its own and actually infect mainstream radio and the pop charts.
In fact, it wasn't that long ago when songs regularly made the leap from broadway stage to the Billboard charts in either original, cover or remix form. Jennifer Holliday's original version of Dreamgirls' "And I Am Telling You" hit number one on the R&B charts back in 1982, and remixed have propelled it up the dance charts as well. Barbara Streisand turned her cover version of "Memories" from Cats into an Adult Contemporary hit in '92. Madonna's movie version of "Don't Cry for Me Argentina" from Evita was a top ten hit in '97. Such crossovers were even more contemporary in earlier decades, and, of course, since then samples from Broadway songs have made their way into pop hits. (See: Gwen Stefani's Fiddler on the Roof-sampling "Rich Girl" and Sound of Music-inspired "Wind it Up" as just two examples.) Though it's been a while since a straight-up contemporary Broadway tune has made the crossover.
Hamilton though has pretty much broken every (lowered) expectation (and record) of what we thought a Broadway musical was supposed to be in this day and age, and has become a phenomenon that reaches way beyond the Great White Way. Can this thing produce a bonafide chart hit?
Not having actually listened to it, we're going to put our money on that Ashanti and Ja Rule track.