Will The Haunting of Bly Manor Be Scarier Than The Haunting of Hill House?
Netflix is bringing you prime Halloween content on October 9, with The Haunting of Bly Manor a new chapter of their Haunting anthology series.
---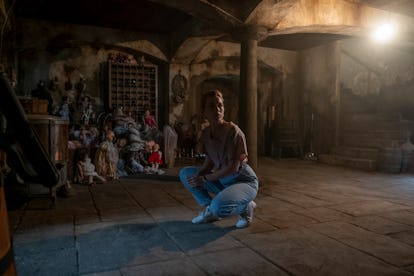 Image courtesy of Netflix.
Two years ago, Netflix's adaptation of Shirley Jackson's 1959 gothic horror novel The Haunting of Hill House crept its way onto the small screen, and became a sleeper hit for the streaming platform.
Now, the first teaser for The Haunting of Bly Manor, the second installment in what we now know to be an anthology series, has finally been revealed, offering up a different take on the haunted house trope. Rather than interpreting Jackson's story as the tale of five siblings who move into a haunted house, and the ways in which they deal with that trauma as adults, The Haunting of Bly Manor is inspired by the works of author Henry James.
Some actors from Hill House will return, albeit as entirely new characters. This season, we will see the return of Victoria Pedretti, Henry Thomas, and Oliver Jackson-Cohen. In this chapter, Pedretti plays an American nanny who has moved to England to escape her past. Thomas plays a rich benefactor who hires her to watch over his niece and nephew (Amelie Bea Smith and Benjamin Evan Ainsworth) after their au pair tragically dies at their estate called Bly Manor.
If you're wondering whether or not Bly Manor will be more or less frightening than Hill House, it's kind of a question of whether or not creepy children and an attic full of antique dolls and handmade talismans are more terrifying than ghosts. It also depends on if you find themes of gothic romance to be scarier than themes of family-inherited trauma. Either way, Netflix promises to scare you with this installment of the Haunting anthology when it drops October 9.
Related: New Faces: Victoria Pedretti, Object of Obsession on You