The House with a Clock in Its Walls Drops First Trailer Starring Cate Blanchett as a Witch and Jack Black as a Creepy Uncle
A first look at Eli Roth's upcoming fantasy horror film, also starring Jack Black and Kyle MacLachlan.
---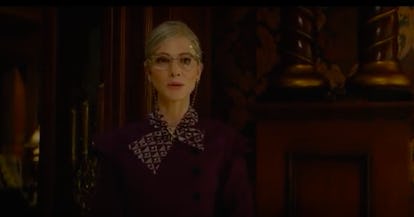 The House with a Clock in Its Walls
There has always been something otherworldly and magical about Cate Blanchett, and, now, the actress is banking on that in The House with a Clock in Its Walls, an upcoming film adaptation of the 1973 children's book penned by John Bellairs. In the first look at the film, the trailer has Blanchett looking enchanting as ever in the role of Florence Zimmerman, a witch who lives next door to Jack Black's warlock character, the uncle of the film's protagonist, Lewis Barnavelt.
"Hello, you're Lewis I presume," Blanchett says to the young boy, played by Owen Vaccaro, best known for Daddy's Home and Mother's Day. "The house is a very old place." As we learn in the trailer, it's not only old, it's creaky and creepy with creatures lurking behind the doors and antique clocks ticking at every moment.
"You'll see," says Black's character Jonathan Barnavelt, who resides in the house where the orphaned child has come to stay. "Things are quite different here."
"So, you told Lewis everything?" Blanchett asks Black, to which he replies, "Well, not everything." "Have a look around," Jonathan tells Lewis, before closing a closet door on an octopus-like creature. "It's perfect safe."
"That's safe?," Lewis asks his uncle. "As long as it's fed," Jonathan replies.
The cast for the Eli Roth-helmed film is rounded out Kyle MacLachlan, Colleen Camp, Renée Elise Goldsberry, Vanessa Anne Williams, and Sunny Suljic, who don't appear in the first trailer. The project is a personal one for screenwriter Eric Kripke, a Supernatural alumni, who shared his connection to it on Twitter.
"When I was 10, I fell in love with this book," Kripke tweeted. "The only fan letter I ever wrote was to its author. It's one of the main inspirations for [Supernatural]. Now we got to make it into a movie. Dreams do come true. If you like [Supernatural], see where it all began."
You'll have to wait until September 21, however, to see it firsthand. When it arrives, there won't be a shortage of like-minded family movies in theaters, as The House with a Clock in Its Walls will hit theaters around the same time as Goosebumps 2 and a remake of Robin Hood produced by Leonardo DiCaprio.