The Legendary Designer Gaetano Pesce Wrings Feminism Out of Furniture
In his upcoming exhibition at MOCA Pacific Design Center in Los Angeles, Pesce's social commentary is cast in resin.
---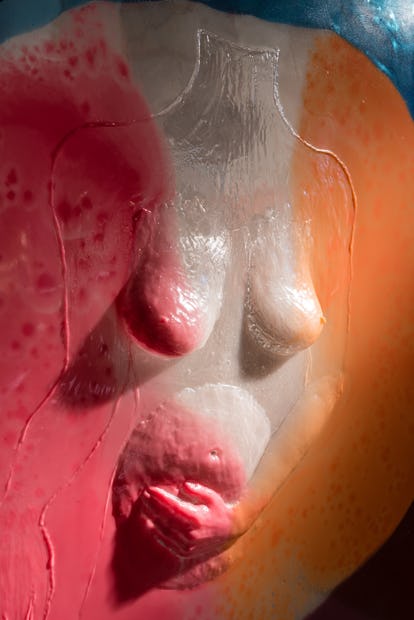 Sebastian Piras
For nearly five decades, Gaetano Pesce, the Italian-born, New York-based furniture designer and architect, has been a provocateur. His "UP" chair and ottoman for B&B Italia — at once an abstract, voluptuous depiction of a mother and child and a critique of women's oppression — caused a sensation when was first produced, by C&B (Cassina & Busnelli), in 1969. His fanciful, beautifully realized "Notturno a New York" sectional sofa, a 2010 design for Cassina, is a "skyline" of segments of tall buildings, with a blue moon behind them.
But what he's probably best known for today are the colorful, blobby-looking pieces in cast resin that he's produced from the mid-1990's to the present, which are the subject of the exhibition "Gaetano Pesce: Molds (Gelati Misti)," opening September 3rd at MOCA Pacific Design Center, the West Hollywood annex of the Museum of Contemporary Art in downtown Los Angeles. Organized by Bennett Simpson, a senior curator at the museum, and John Geresi, a Pesce collector and scholar who contributed 31 works to the show, the show examines Pesce's work with resin, molds, and casting techniques in more than 70 objects including vases, chairs, lamps and the two-dimensional reliefs that the designer calls "industrial skins."
The exhibition's title, of course, is classic Pesce: "gelati misti" refers both to Italians' slangy use of the word "gelato," or "frozen," for something in the past, and "misti" to the show's mix of works, the designer explained.
One of his early influences was the work he did as a student with three venerable Murano glassmakers — Moretti, Vistosi, and Venini — whose casting techniques, Bennett Simpson said, certainly informed Pesce's resin work. The designer himself sees casting a liquid material as an extension of cooking, which he learned from his family: "As I've always been able to make sauces and creams, I learned very quickly how to mix chemicals and understand their secrets and expressions."
The show includes Pesce's signature bullet-shaped resin vases, as well as recent works like the lyrical "Albero" ("Tree") vase, with its base like a gnarled trunk supporting a bowl that looks like a canopy of tiny green "leaves"; or the sea creature-like "Vase with Hair," with its cascade of red tentacles.
But it's in the exhibition's "skins" that Pesce gets both personal and political. His 2015 piece "Cara Madre," a bas-relief silhouette of a pregnant woman, refers to a failed attempt to have a child with a former partner, as well as to women's "ability to guarantee the progress of the world by giving life to a human being." His "La Guerra è Femmina?," from the same year, is an ironically-titled criticism of war as something only men could invent.
For Pesce, casting in resin allows a sort of mass customization: pieces can be created in quantity, but they can also be varied slightly from one to the next. "I believe that life and communication are kept alive by diversity," he says. And diversity is in ample supply here.
Watch W's most popular videos here: