The Lesson of Hillary Clinton's Concession Speech: Keep Fighting
The first female candidate nominated by a major party to a presidential ticket, a lifelong trailblazer for women and dedicated public servant, Clinton reminded her supporters to keep fighting the bigger battle in her concession speech. "I still believe in America," she said.
---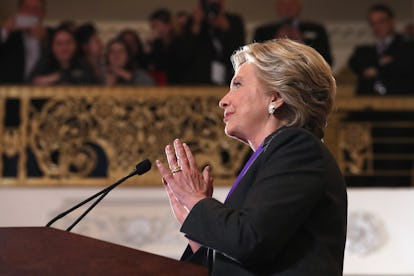 Getty Images
In a concession speech that few imagined she would give just 24 hours ago, Hillary Clinton presented herself as the pragmatic but ever optimistic veteran of hard-fought political fights that many supporters knew her to be.
Though the results of this election surely seem dire to those who voted for her, Clinton presented what is likely the end of her political career as a minor setback for a larger movement that can be overcome through continued hard work and activism.
"This is not the outcome we wanted or we worked so hard for, and I'm sorry we did not win this election for the values we share and the vision we hold for our country," said Clinton from a small stage in Manhattan's New Yorker hotel.
"This is painful, and it will be for a long time. But I want you to remember this," she continued. "Our campaign was never about one person, or even one election. It was about the country we love and building an America that is hopeful, inclusive, and big-hearted. We have seen that our nation is more deeply divided than we thought. But I still believe in America, and I always will. And if you do, then we must accept this result and then look to the future. Donald Trump is going to be our president. We owe him an open mind and the chance to lead."
Though Clinton offered her respect for the office Trump will soon take, she told supporters to continue to work for so many of the values that they fear Trump may not respect.
"Our constitutional democracy demands our participation, not just every four years, but all the time," she said. "So let's do all we can to keep advancing the causes and values we all hold dear. Making our economy work for everyone, not just those at the top, protecting our country and protecting our planet."
"We believe that the American dream is big enough for everyone. For people of all races, and religions, for men and women, for immigrants, for LGBT people, and people with disabilities. For everyone."
You can watch the full speech here:
She ended the speech with a call for activists to keep working, specifically the women.
"We need you to keep up these fights now and for the rest of your lives. And, to all the women and especially the young women who put their faith in this campaign and in me, I want you to know that nothing has made me prouder than to be your champion."
Sadness and Disappointment: Reactions at Hillary Clinton's Election Night Party as Donald Trump Declared Victory
This is essentially the core of who Clinton is. She's fought at all levels for progressive change throughout her career, and at times perhaps might have been too candid about the limits of what elected officials can actually achieve (some may see her a liar, but she's been truthful almost to a fault about that). She framed her candidacy as not one of radical change or activism from on top, but as one that would enshrine and protect recent hard fought battles while empowering American people to continue to win more.
She will not get to bring that vision to 1600 Pennsylvania Avenue come January, but she can continue to spread it even in defeat.
Inside Hillary Clinton's Election Night Party in New York City