The Most Random Celebrities Spotted At New York Fashion Week
You'd expect to see Teyana Taylor and Naomi Campbell all over town, but why on earth is Martha Stewart Instagramming Snoop Dogg's couture potluck dinner?
---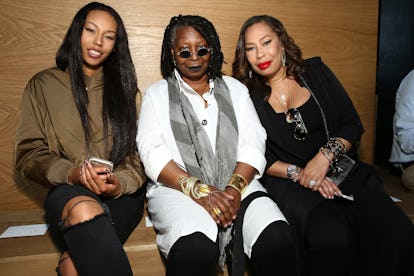 Getty Images
Ah, fashion week: a dizzying kaleidoscope of beautiful people, sumptuous clothes, and fantastic parties that accumulates to produce one of the most stimulating events on the planet. It's no wonder that the rich and famous flock to Manhattan around this time of year to be a part of the festivities, but some of the people spotted among the models and designers this fall have been true head scratchers. What in the world was Whoopi Goldberg doing at Opening Ceremony? Why was Martha Stewart Instagramming Snoop Dogg's shoes? Some mysteries are perhaps best left unsolved.
How did these two even meet?
Uninvited guest or no, everyone was overjoyed to see Anderson at the Coveteur launch.
Rick Ross makes every room he's in look like it was built with him in mind, to be honest.
Wow. Really makes you think.
Pete Wentz looks as though he has no idea where he is or how he got there. We are wondering the same thing.
Same, Whoopi. Same.