The New Joyce Boutique in Hong Kong Takes Luxury to the Next Level
Hong Kong's iconic Joyce boutique reemerges with eclectic decor, avant garde collections, and secret VIP rooms that speak to fashion mavens across geographies and generations.
---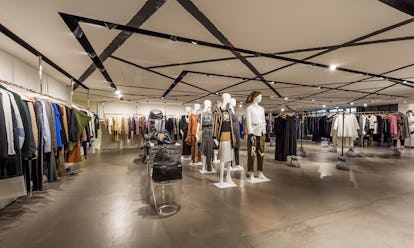 Chris Lusher 2016.
Hong Kong has a reputation for its utilitarian commercial buildings and homogenous luxury chains. So when a boutique injects surprising pops of color, personality and secret VIP hideaways – people tend to take notice.
Particularly when said store is one of the oldest and most prestigious retailers in Hong Kong. Enter the new Joyce Central flagship: This stalwart fashion player unveiled its new look in mid- October, expanding from 20,000 to 25,000 square feet, on a prime plot in Hong Kong's Central District.
Founded in Hong Kong in 1971, Joyce has profoundly influenced fashion in Asia, introducing high-profile western designers and avant garde collections to the region. And with her own penchant for creativity, Italian architect and designer Paola Navone was a perfect fit to lead the redesign.
"I redesigned the boutique with the same approach you have when you want to renovate your apartment," says Navone. "You do not want to forget your past, but you want to update the space using new elements, new things, new colors."
To usher Joyce into a new era, Navone – who has handled art direction at Gervasoni furniture since 1998 – harnessed rich color combinations, eclectic textures and eye-catching artwork, giving each space its own distinct, yet complementary, character.
"We have completely altered the façade – it feels more expansive, more authoritative, more inviting," says Andrew Keith, president of Joyce and Lane Crawford.
Indeed, the light-filled entrance on Queen's Road Central pulls passersby into the ground-floor woman's zone. Even without any fashion, there's much to admire: Distressed leather pommel horse benches, hammered brass lamps, a retro-chic Capellini couch. It's impossible to miss an 8-foot-tall shaggy-haired bear – made by the Joyce creative team, headed up by Gavin So – in the middle of the room. Nor can you simply walk by a massive cherry sculpture, a black-and-white pebble pillar, or a wall covered entirely by blank white price tags.
But of course, you're not there for the art. Throughout the women's section, curvaceous wrought iron racks gracefully display designer collections. There's a lush green Dries Van Noten fur collar ($708) that's all glamor, as well as an Hermès animal-print vintage top ($1,830), a pastel knitted Peter Pilotto cape ($2,100), and a glimmering rose gold top from Lanvin ($2,913) nearby.
Shoppers feel a shift as they head down an illuminated stairwell, flanked by hand-painted polka-dot walls and dangling strands of ceramic lights. Downstairs in the men's basement floor, a neon sign reads: "Hell is empty and all the devils are here."
Those devils are in the details, with statement pieces everywhere, such as royal blue sneakers from Balenciaga ($708), studded LOEWE boots ($1,624) and a wall of eye-catching Visual Culture ($345-551) sunglasses. And while Hong Kong's tropical climate will likely never be frigid enough for either, there's also a calf-length mohair Rick Owens parka ($3,557) and a comically large Raf Simons puffy jacket ($2,874).
Take the stairwell up two flights to the Joyce Beauty floor, and you're transported to a whimsical world – pink, gray and green marble seem to ooze across the floor like spilled nail polish. Standalone rose-gold counters are stocked with Kevyn Aucoin makeup, Rodial 24-carat gold Bee Venom cream ($927), luxe Belle Fleur candles ($96), and Rahua Rainforest hair care (shampoo from $42).
But the jewel in the crown is the secret VIP loft. Stretching across 2,700 square feet, the exclusive space is decked out like a royal residence with rich red, silver and purple hues, as well as glowing mosaic light panels, a private boudoir, and dining area for entertaining.
"This was the perfect opportunity to create a dedicated space for our VIP clientele, a space that felt special, a little bit secretive," says Keith. "We strive to go beyond transactions and to take our customers on a journey of discovery and appreciation of the true artistry of fashion."
Tribes Fashion pilgrims from around the world.
The Mix Highly-curated avant garde pieces and runway collections from the world's most innovative designers. Designer makeup brands, organic and natural haircare, perfume, candles and more.
Best Sellers Dries Van Noten, Rick Owens, Sacai, Thom Browne, Marni.
Design Italian interior architect and designer Paola Navone is a self-described artistic nomad who takes inspiration from all over the world. Her redesign showcases surprising textures, reimagined everyday items, vibrant colors and tucked-away secrets along the way.
Pièce de résistance An eight-feet-tall shaggy bear, designed by the Joyce team, in the women's lounge on the ground floor.
Standout service Joyce hosts demi-couture trunk shows, where designers visit to personally to fit customers.
Prices Home to both beauty offerings and international designers, Joyce offers versatile price points. Beauty products start from around $20, while fashion can jump up to $26,730 for a full-length rose-pink overcoat with fox fur trimming from Oscar De La Renta.
The Basics Ground floor, New World Tower, 16-18 Queen's Road Central, Central, Hong Kong Open daily, 10:30 a.m. – 7:30 p.m.
For those who prefer to browse before they buy www.joyce.com