The New Marfa: Where to Eat, Stay and Shop Now
The strange, arty town in the Texas desert has exploded with Instagramming tourists, and now has the new hotels, restaurants, and shops to accommodate them all. But it's still a place unlike anywhere else.
---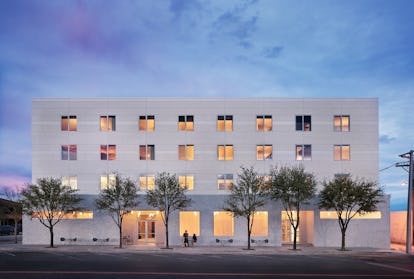 Casey Dunn
If you're on any form of social media, it's likely that you've seen this image more than once: a stand-alone Prada store in the middle of a desert, no other building in sight.
It's in fact a piece of art, commissioned by the nonprofit gallery Ballroom Marfa in 2005, and has since become the beacon signaling the trendy rise of the tiny, remote West Texas town of Marfa. In the past year alone, a disproportionate number of shops, restaurants, and galleries have opened in Marfa — although any new opening would seem disproportionate to a population of 1,819.
In March, Tim Crowley's Hotel Saint George brought 55 new rooms to the city, not to mention its very first full-service accommodations. It was much-needed, given the rapid growth in tourism. According to Jenny Moore, the director of the Chinati Foundation, visitorship to the museum when she arrived in 2013 was 12,500; in July of this year, they were closing in on 28,000 people, with six months of 2016 to go. I contacted Marfa's tourism board for overall numbers, but after one tepid response there was only radio silence. As an NPR article noted in 2012, "No one is even keeping track of how much tourism has increased, including Kaki Aufdengarten-Scott, the town's one-woman Chamber of Commerce."
And there are other ways Marfa is infiltrating pop culture. Over the month of June, Jill Soloway, creator of "Transparent," was in town to film the pilot of her newest project, "I Love Dick," starring Kevin Bacon.
"It's encouraging to see younger people move here," says Moore. "I think there's a sense of being part of something, that you might not be able to feel in places like New York or Los Angeles where it is so expensive to live and you feel so removed from the core of a cultural center."
Yet in a way, Marfa has always been on the cusp: when George Stevens filmed the adaptation of Edna Ferber's novel, "Giant," there in 1955; when the land grab between farmers and ranchers came to a head in the 70's; when Donald Judd founded the Chinati Foundation in 1986; when Crowley came to town and started the Marfa Book Company and his namesake theater in the early aughts. And for all that change, not much seems to change.
"When people come to Marfa, they begin the conversation with Judd, which is now so much of people's point of entry, but I think it's also important to [realize] there is something about Marfa that I think has always been special," says Moore.
Judd's daughter, Rainer, who runs her father's estate and the Judd Foundation in town (which is open to the public seven days a week), still visits as often as she can — but it's not for the new food scene. "I don't go to Marfa for the cappuccino, though I do appreciate it," she says. "Some of my earliest memories are from this neighborhood we lived in called Sal Si Puedes — it means 'get out while you can.' The house was up on the hill and you could see the Davis Mountains… we weren't that far from the city dump. And our bathroom was a good hundred feet from the house, a little shed that you'd have to run to at night because it was a little scary."
Gentrification always feels threatening, but especially in Marfa, where at least 70 percent of the population is low-income. "The town faces real challenges, in that while there certainly has been a beneficial economic impact, our teachers can't afford housing here, families struggle to raise their kids here," says Moore. "I think that it will be interesting to see if Marfa can balance itself to have a healthy community across a spectrum."
Rainer, meanwhile, is battling the Trans-Pecos pipeline, along with the Big Bend Conservation Alliance — more threats to the spirit of Marfa. And while it's difficult for a such a small population to be heard in the political landscape, it also means that experimenting with low-income housing, supplemental education, and conservation efforts could have a major impact. Or, as Rainer puts it: "Elon Musk, come on down."
All of which is to say that there is an undercurrent of protectiveness always simmering in the desert heat. "Even though that aesthetic stuff is shifting, the town has some defense mechanisms to really hang on to its identity," says Ryann Bosetti, who opened a hair salon in Marfa two years ago.
On the surface, that attitude can seem unwelcoming to tourists, but in fact it's part of what makes Marfa so appealing.
"I think people are looking for meaning and meaningful experiences, and they're finding it here. As much as we travel and as far as we go, it's still a journey to get to Marfa," says Moore. "It's hard to get here, but everybody's welcome!"
Where to Eat
STELLINA
Krista Steinhauer is something of a local hero, as the co-founder of the Food Shark food truck in 2006, and for her fresh Mexican fare at the now defunct Comida Futura. So locals rejoiced when she returned to the Marfa food scene in June with Stellina, a small plates Mediterranean restaurant in the former Maiya's space. Together with her partner, Brandon Messer, she's serving up roasted corn gazpacho, pappardelle with wild boar ragout, and grilled branzino. A large, wraparound bar is the focal point of the restaurant, and seating is communal and first-come, first-served. "There's so many travelers, and couples or solo people that want to engage in conversation or [go somewhere where] it's not uncomfortable sitting and eating by yourself," says Steinhauer. "You can slip in and it's not a big deal." With Stellina, she's in it for the long haul. "Here you can be a hot new thing for five minutes but then you really have to service the locals," she says. "It's not like New York, where you have to constantly reinvent yourself."
MARPHO
"Marfa pretty clearly needed fresh food and Asian food," says Brooke Riley, who opened Marpho with her husband, Jason Poe, in April. "By virtue of living in West Texas we taught ourselves to make Vietnamese, which is our favorite." Now they're sharing bahn mi and pho bo with the general public, including Kevin Bacon and Kyra Sedgwick, who stopped in for a bite while filming the pilot for Jill Soloway's "I Love Dick." Ingredients are locally-sourced, "to the extent that we can," says Riley. "It's actually really hard to get things here… anything. And food is no exception." Despite that, they're able to serve Texas beer and wine; beef is grass fed; chicken is organic. Still, some things are impossible luxuries in the middle of the desert. "A lot of products come to us from Asian supermarkets on the west coast," Riley says.
CAPRI
The Capri, inside the Thunderbird Hotel, was an event space before it transitioned to a restaurant in 2005, finally adding dinner service this February. Classically trained chef Rocky Barnett specializes in Meso-American cuisine, serving up grasshopper tacos, freshly baked mesquite bread and prickly pear sorbet. Popular cocktails include the Kissing Bandit and the Oaxacan Old Fashioned, with mezcal, reposado tequila, and agave.
LAVENTURE
Owner Tim Crowley claims they weren't trying to fill a niche in Marfa with his restaurant inside the Hotel Saint George, LaVenture, "unless it's the gap of, we have regular hours," he says. "That's actually a big gap." But he's also adding to the food scene, with help from chef Allison Jenkins, whose easygoing menu includes crispy half chicken, ricotta gnocchi, and tuna tartare. "We grind the meat ourselves for the burgers, we make the buns for the hamburgers," says Crowley. "You can't get a hamburger in this town that doesn't have a Mrs. Baird's bun and a frozen burger patty." Except here, of course.
Where to Shop
MANO
Gabrielle "GG" Gamarello and Beaumont "Beau" Buck are transplants from San Francisco, but claim that living in Marfa is like being in "the heart of a city," says Buck. "It's not really until we get to the outskirts of town that we're like, 'Oh right we live in a small town.'" Essentially, it's the best of both worlds: the couple doesn't feel like they've lost their social life, but opening their boutique, Mano, in a town as small as Marfa has allowed them to "try things out." So far, that has included indigo-dyed handkerchiefs, sashiko-embroidered western shirts, and turquoise-encrusted guitar picks. They also offer vintage items, photographs, and beauty products in collaboration with Marfa Brand soap. Another plus of moving to Marfa? Their morning commute consists of walking down from their second-floor apartment to the shop on the ground floor.
COMMUNITIE
Clothing designer John Patrick was drawn to Marfa for many of the same reasons that bring artists there. "I wanted the freedom that Marfa offered to me in its visual purity, and I love the people. I have done some of my best new work of the past five years there," he says. He opened Communitie in 2015 (during Chinati Weekend in November) after purchasing a home in town. "It just felt so right with the landscape and the light and the architecture all at the same time. And of course the Judd aesthetic really gave me a road map to build the interior of the space and keep the integrity of both Marfa and my work," says Patrick. Both his original line — John Patrick Organic, which he launched in 2004 — and his secondary line, Communitie, are sold at the shop. Wood block sarongs and a hat collection are exclusive to the store, which sits on the main drag in town.
Where to See Art
ROBERT IRWIN AT CHIANTI
To a non-discerning eye, Robert Irwin's 10,000 square foot installation at the Chinati Foundation may appear to be just a building, but look closely and you'll notice that the windows are taller than they should be, and the walls are disproportionately thick. It's actually a rebuilding of the demolished hospital at the former Fort D.A. Russell (which Donald Judd acquired in the late 70's with the help of Dia Art Foundation), and it's the only permanent and freestanding work of art by Irwin. "That's the main event, all the windows. People think they're looking for artwork but what they're actually seeing is beautiful nature," he says. With the extra-tall windows, viewers see only a thin strip of land, reminiscent of Dutch Old Master landscape painters like Van Eyck or Rembrandt. For the 87-year-old Irwin, it's all about that big Texas sky: "The clouds are right on top of your head; it's like a wild west show everyday."
RULE GALLERY
When the founder of this Denver gallery, Robin Rule, passed away, her team traveled to Marfa as part of the mourning process. "In 2000 she came down here with the artist Mary Obering and — several people have told us this, I don't know if it's true — had the first pop-up show in Marfa," says Rachel Beitz, now one of the gallery owners. After that, "she never stopped talking about Marfa, she had loved it so much down here." During the visit last year, the team found a house that they now use as both a gallery space and a residence for whoever is in town from Rule — so watch out for beds when wandering through the space. "It's funny how many people have asked if this is an art installation," says Beitz. Artists currently on view include Nina Elder, Joseph Coniff and Martha Hughes, a Marfa resident. "Rather than going to a lot of art fairs, we chose to come here, and have a space where we can interact with people more slowly," says Beitz. "It's a chance to meet a lot of the same people, but kind of at our own pace."
INDE/JACOBS
The original Inde/Jacobs gallery opened in 2005, but it moved to a new home in May 2015—significant not only because owners Tom Jacobs and Villis Inde were celebrating a decade in Marfa, but also as the first building in the U.S. by Swedish architects Claesson Koivisto Rune. "We chose the Swedish architectural firm because we knew that they 'got Marfa' and Donald Judd," says Inde. The building relates to the concepts of Judd, including perspective, light and minimalism. Then and now, the gallery focuses on minimalist and reductive art, with limited editions by Judd, Dan Flavin and other Chinati artists. The current exhibition focuses on light and mass, and features work by Marfa's Jem Goulding, Erika Blumenfeld and Munson Hunt.
KRUGER GALLERY
Like many newcomers to Marfa, Mikelle Kruger opened the Marfa location of her gallery (the original is in Chicago) during Chinati Weekend last year. Her third-ever show, opening October 7th, will feature Rodrigo Lara Zendejas, a Mexican artist living in Chicago, and his installation of a life-size ceramic mariachi army facing north in opposition to Donald Trump and his proposed wall. "The Marfa location was important for me to do because it allows space outside a typical commercial gallery format and favors a more 'non-commercial' approach," says Kruger. "Shows run longer and focus more on installation, performance, video and sound art — forms that are harder to 'sell' but essential to a well-rounded art dialogue."
Where to Stay
HOTEL SAINT GEORGE
There's very little doubt that Marfa has been lacking in hotel rooms — before the Saint George opened in March, owner Tim Crowley estimates there were only around 100 available to its many visitors. A total of 55 rooms complete with TVs and phones in each, elevator service and a round-the-clock concierge makes the Saint George the first full-service spot in town. There is an impressive art collection to boot, including pieces from Christopher Wool, Mark Flood, and Jeff Elrod. It's also home to the Marfa Book Company's new location, and LaVenture, a rustic American eatery. Come spring, Crowley will expand across the street with a casual Mexican restaurant and a pool. And he's quick to point out that even though Saint George opened with tourists in mind, it's also meant to serve the community. "Our employee group looks exactly like Marfa, we didn't say 'Oh, we're going to hire a bunch of boys from Fiji who speak French.' Because they're only going to last about 45 days and then they're going to move out of town," he says.
Where to Get a Cut
RYANN BOSETTI SALON
When hairstylist Ryann Bosetti spent her first summer in Marfa six years ago, everyone wanted a haircut. "I ended up riding my bike around town and cutting everyone's hair," she says. After that, she would travel back to Texas whenever she could to make the rounds, and eventually decided to make it her official home. Bosetti, who trained at Bumble and Bumble in New York, opened her namesake salon two years ago, and now, "I take care of the whole town," she says. "I cut my Latino grandmas and their grandkids, but then I also cut Jill Soloway and Eileen Myles." She adds, "In terms of someone who's trained in New York and that kind of thing, I'm the only person for like four hours. When you're the only one, you get this broad spectrum. It's really beautiful."