Matt Bomer Lost 40 Pounds for His Role in The Normal Heart
Director Ryan Murphy stokes the emotional and political fires of the '80s AIDS epidemic.
---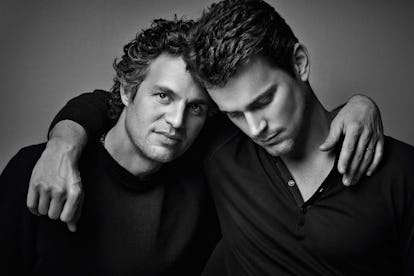 When Larry Kramer's autobiographical play The Normal Heart first appeared off-Broadway in 1985, the AIDS crisis was immediate, mysterious, and very scary. Thirty years later, the director Ryan Murphy, who is known for creating TV shows like Glee and American Horror Story, is reminding us of the depth of the epidemic with a TV movie based on the play—which first aired, aptly, over Memorial Day weekend on HBO. Although the AIDS epidemic began not that long ago, many people don't recall what it was like. Entire worlds were being wiped out, and it is important that the human devastation be acknowledged.
The story follows the indignant and fiercely political Ned Weeks, played by Mark Ruffalo, and his longtime companion Felix Turner (Matt Bomer), a New York Times style reporter. When Felix, who is not openly gay, finds a purple lesion on his foot, the shame and fear experienced by so many at the time becomes horribly vivid. As Felix's health deteriorates, Ned becomes a militant activist for safe sex and government-sponsored medical research. In the process, he alienates leaders of the gay community and chieftains of the medical community. The intensity of the relationship between the two men helps explain Ned's brash behavior: He doesn't want to lose his great love.
Unlike some AIDS dramas, The Normal Heart actually shows the physical devastation of the disease. Bomer, who is the strikingly handsome star of USA's hit show White Collar, lost 40 pounds over the course of the filming, wasting away as a dying person would. Bomer, the father of three young children with his partner, the power publicist Simon Halls, felt compelled to leave his family as he filmed the final stages of his character's life, out of concern that it would be too difficult for his kids to watch or comprehend his transformation. Although physically healthy, Ruffalo's character is a man obsessed—and his frantic zeal to save his lover's life is loud and heartbreaking. Murphy has empathy for his often infuriating protagonist: Ned's courage and determination remind us that the fight against AIDS should never be forgotten.
Mark Ruffalo Explains His Man-Crush on Joaquin Phoenix